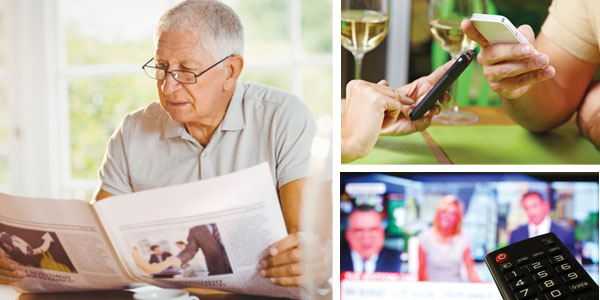 Maria DiGiorgio is a lifelong New Yorker, who currently resides in Commack, with her family. She is a devoted wife and mother, an educator and designer. She has a passion for interior decorating and loves to garden. She is an avid reader, and enjoys writing about life experiences and parenthood, as well as her personal observations about the world around us.

The incomparable Joan Rivers was famous for uttering this line in her comedy routines. She wanted to shed light on topics that didn't always get discussed, and share her personal views on the very same. In today's world, it would seem very little goes unsaid in the social media epidemic we find ourselves in. Everyone has an opinion and a sense of entitlement, with regard to sharing it. People from all walks of life feel compelled to offer us their unfiltered opinions, beliefs and practices, in a seemingly endless deluge of technological pontification. Nary a subject is wont for dissection and dissemination on social media. It doesn't seem to matter if people are uninformed about the subject matter, nor if they openly offend others with their pre-fabricated rhetoric. As long as they get their point of view across, they seem personally satisfied.
Unfortunately, things like respect, humility, tolerance and kindness are all too often overlooked in the process. We forget, or perhaps we never truly learned in the first place, to be sensitive to others, while expressing differing views or opinions. This is a very serious and widespread problem for adults and youngsters, alike. With all the school-based programs aimed at informing children how to avoid such pitfalls, we see repeatedly, these very offenses committed in the public forum, by those, who should absolutely know and do better. Twitter, Facebook, Instagram, talk radio, newspaper and news channel programs all serve as bully pulpits (in the literal sense of the word). This must stop!
People in positions of power and influence – parents, teachers, lawmakers, leaders, politicians, celebrities and all those in the public eye, must lead by example. Discussions about proper decorum, moral integrity, as well as social, ethical and legal responsibility, should and have to be openly explored. It would serve everyone well to have these conversations not only in schools, but also in homes, workplaces and wherever the opportunity presents itself to enlighten and inform others.
We owe it to ourselves, to our children and to the generations that will come hereafter, whereupon even more technological advancements will abound. In bringing this issue into the spotlight and working together, as a society of intelligent, caring and evolved human beings, I believe a very powerful and positive change can be had. I mean . . . can we talk?