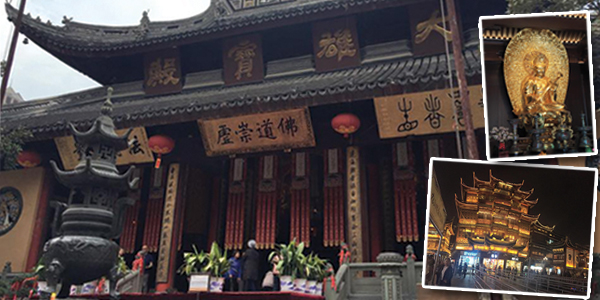 Joanna Adduci is a Northport resident, currently working as a writer. She has a B.S. in Journalism from St. John's University and is active within her community working as a blogger and musician. She enjoys cooking, traveling, hiking and performing with her dad in their LI-based cover band, Next Generation. Joanna can be reached by e-mail at: joanna.adduci10@gmail.com.
I have dreamt of Asia my entire life. There's something inherently magical about the culture and landscape – a land of people that appear to have mastered the art of preservation in an era that gladly welcomes its demise. When my boss contacted me about traveling to China for a few weeks, I began my research and looked forward to crossing over into the land of the unknown.
My journey began with a 15-hour flight from Newark to Shanghai. I spent my time on the flight envisioning my first experience in Asia – complete with exotic foods, ornate temples and gaining a new perspective into another complex culture – my favorite aspects of experiencing a new place. After a long (very, very long) journey, I arrived in Shanghai. To my surprise, most signs in the airport were in English and transportation seemed easily accessible. One long taxi ride later and I was in city center – in a beautiful hotel located on The Bund – an affluent, expat-friendly area of town. The view from my window helped me to grasp the fact that this was all really happening – I was in China.
Adrenaline is a powerful thing. I had been awake more than 24 hours when my first evening in Shanghai approached. I told myself to get some sleep. I tried to convince myself whole-heartedly to ignore the rooftop bar, and stay in bed. Of course, we all know, the temptation surpassed my logic, and somehow I ended up on the rooftop bar with a glass of prosecco in one hand and a camera in the other. This is one of my favorite memories of Shanghai – a moment almost too clear to overlook on most days. I met expats from Australia, Spain, America and more. They were happy – and many told me their stories of relocation. After a few too many hours spent awake, I headed back to my hotel room – looking forward to creating my story – not a story of relocation, but of self-exploration.
During my time in Shanghai, I visited temples, restaurants, parks, shopping districts and more. I managed to get around in taxis which were startlingly cheap – with 15 minute rides totaling to less than five USD. Jade Buddha Temple was, by far, my favorite attraction in Shanghai. I spent hours inside – meditating, writing, drawing – it was truly a once-in-a-lifetime solo experience. Other highlights included The Bund (as previously mentioned), Yu Garden, Nanjing Road, Xintiandi and People's Square. Culinary highlights included jellyfish, turnip pastries, Peking duck, any and all fruit, coffee and dumplings. (I also tried goose intestines, cow stomach and kidney – I would not define these as "highlights" but a necessary culture immersion of sorts.)
I spent my last night in a hostel, Mingtown Etour Youth Hostel. After residing in five star hotels for the duration of my trip, I can wholeheartedly say that a hostel experience is an authentic experience. When life is rid of luxury, and the focus remains on comradery, culture and exploration – you have a much clearer, and more accurate, view of the place you're exploring. Although I visited two other cities during my time in China, (Chongqing and Guangzhou: stories for another time) Shanghai remained closest to my heart. I departed from China with a group of new friends, an understanding of the importance of spirituality and introspection, and a newfound perspective as an individual, and a traveler that remain invaluable to me.