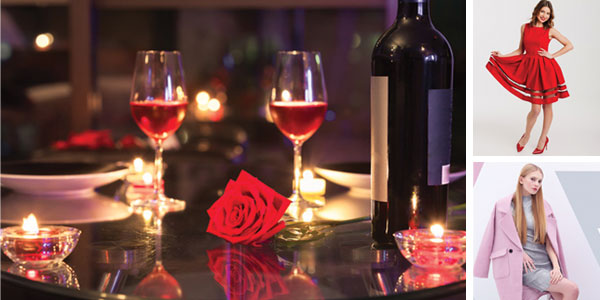 Rachael Severino is an incoming high school senior at Sachem North High School in Sachem School District. This aspiring writer has a knack for the written word. She has penned short stories, poetry and is developing an impressive body of work.

A day created to celebrate and express love, Valentine's Day is an accumulation of all the soft and sweet feelings felt for your partner. An outward display of love is the essential aspect of this holiday, as it was originally a day for secret marriages to be performed.
Dressing up for this holiday can be one of the best parts. Dolled up for your partner or yourself, either way, it is a gratifying experience.
One way or another, cherry reds or blushing pinks are the iconic colors of Valentine's Day. How you choose to wear them hardly matters; a flirty dress or sharp tie will look excellent in any shade of red.
Your make-up can aid you in amping up any outfit, whether it's a sleek eyeliner, warm eyeshadow, glowing highlight, or false eyelashes.
Shoes have long been said to be a girl's best friend, and they are. However, they can please both women and men when gearing up to put on a show stopper. Strappy heels are a flirty look, Chelsea boots are more elegant, kitten heels are soft and sweet, oxfords are classic and charming, while leather loafers are simple and clean.
Surprising and thrilling your lover with a fancy outfit can be great fun. A romantic dinner is the perfect time to break out a long slip dress, patterned with roses or in a single hue. Chunky heels and a cross body chain purse will match beautifully.
A sharp suit in simple black or charcoal will also go with a romantic dinner. Glossy oxfords or matt loafers and a tie with an elegant rose pattern or bright shade of red will finish your outfit off perfectly.
For a flirtier look, consider a short slip in a dusty rose silk. Strappy kitten heels and dainty silver jewelry will accentuate the darling aesthetic.
A printed jumpsuit tailored to your body with a keyhole top will give you a sophisticated, sexy air. Thick heels or Chelsea boots to match your suit will guarantee you stand out. This is an excellent outfit if you plan to spend the night on the go, traveling from place to place with your date or group of friends.
Should your style be classic, a long sleeve ruffle dress with a belt and boots is the look. Big waves and simple make-up with a cat eye will get you far.
A knitted but tailored turtleneck in jewel tones or deep greys with fitted slacks and neat loafers will also promise a chic and classic appearance.
Outerwear for Valentine's Day should always be tasteful and timeless, such as a trench coat. A chain cross body or leather wallet is the best way to tote around the essentials: lip balm, lipstick, cash, and keys.
Dress up, dress down. Valentine's Day is the day to express your love, make sure you are having a great time and are comfortable with how you look!