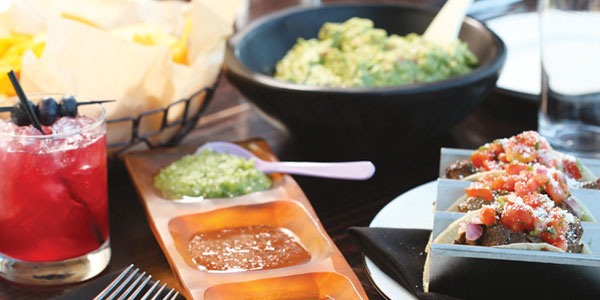 Joe Alicata is a 2009 graduate of Northport High School, he has his B.A. in Public Administration from the University at Albany. Joe works in the radio industry, is a member of the Advisory Board for the Northport High School Academy of Finance (AOF) program, and is a Director for Northport Student's Mean Business. He can be reached at etrestaurants@gmail.com

When searching for the perfect place to take Dad this Father's Day, the menu of options is almost limitless. Brunches, lunches and prix fixe dinners. This is all fine and dandy, if your Dad is the type to do brunches, lunches and prix fixes. Mine on the other hand, not so much.
My Dad will opt for the prix fixe dinner every so often, but as someone with a hilariously entertaining personal space issue, he is not exactly cut out for brunch buffets; and as far as lunch goes, he is pretty easy to please, just hand over the cold cuts and stand back. That said, my family and I decided to roll the dice this year and we'll be taking him some place he has never been, in Manhattan… for Mexican food. You can almost hear the SNL writers calling.
What will keep this venture from devolving into public embarrassment and utter failure is the venue. Dos Caminos Modern Mexican Cuisine and Tequila Lounge. A member of the BR Guest Hospitality group, Dos Caminos has four locations in New York City: Dos Caminos Soho, Dos Caminos Meatpacking, Dos Caminos Park Avenue and Dos Caminos Third Avenue.
I have been to the location on Third Avenue (825 Third Avenue between 50th and 51st) previously with a colleague of mine, and fell in love with the place immediately. When you first walk in you are welcomed into a warm, open space with high ceilings and a bar on your left with plenty of seating. For my reservations, we were led downstairs into a brightly lit and lively dining area, with its own corner bar and numerous modern art pieces dotting the landscape. The atmosphere is fantastic, and the service is as well.
Being a guacamole enthusiast, I recommend the appetizer plate of guacamole and salsas to start your meal. Your only problem will be if you order the portion for two and not four, as this may very well be the best guacamole I have ever had; perfectly seasoned and creamy while not being overpowered with onion, garlic or spice as is sometimes the case with restaurant guac.
For dinner, Dos Caminos tackles a number of Mexican staples with their own unique flare. From tacos and empanadas to quesadillas and burritos, Dos Caminos offers flavorful spins on contemporary favorites. My personal favorite and a dish I will remember for some time, the Oaxacan-Style Shrimp Quesadilla. Served open face, it is almost like a pizza, with the perfect amount of melty, cheesy wonderfulness balanced with the light and fresh seafood atop it.
If you are looking for a contemporary place to take your Dad this Father's Day, and don't mind making the trip into the city, Dos Caminos offers a unique dining experience that will make this Father's Day memorable. Check them out online at www.doscaminos.com. Happy Father's Day!