Shaolin Kempo St. James
556-08 North Country Rd.
St. James, NY, 11780
W: http://www.shaolinstjames.com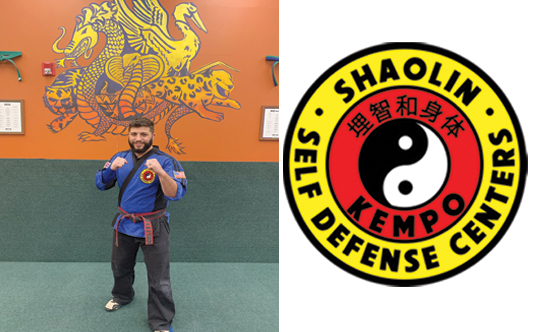 Mike Caiozzo,
Head owner and instructor
Shaolin Self Defense Center of St. James believes that it is never too early or too late to learn the art of self-defense.  From peewees (ages 4-6) to adults, their goal is to educate students both mentally and physically in the art of Shaolin Kempo Karate.  Head instructor and owner, Sensei Mike Caiozzo, began practicing martial arts when he was just eight years old.  He studied Shaolin Kempo Karate for over 20 years under Sensei Ray Cooney and Master Tom Ingargiola.
"Every day that we train, there is always something new that is learned, and that's exactly what we take pride in here at our dojo," says Caiozzo.
Shaolin Self Defense Center of St. James offers classes in everything from Kempo Karate, and Kickboxing, to Grappling, Yoga, and MMA.  Through bag work, mitt work, drills and strength training, Sensei Mike and his staff are there to enhance you skills for balance, coordination, concentration, speed, strength, and focus.
Sensei Mike works with students to develop their strength and fitness levels and gives them a full understanding of the arts.  Whether the student prefers individual, virtual, or in person group lessons,  Shaolin Self Defense of St. James is here to accommodate a broad range of client needs.  What is even better is that while learning discipline and important life lessons, students can build social skills amongst their fellow students.
Currently celebrating their fifth anniversary in St. James, as an active competitor in kickboxing, grappling, and MMA, Sensei Mike takes pride in teaching both beginners and advanced.  From fighting in the ring at age fifteen to now owning and managing his own studio, Caiozzo has much to be proud of.
As a fourth degree black belt, Sensei Mike has received several awards for his technique and determination.  He was awarded the highly regarded, Bushido Spirit Award (As compared to all other Shaolin Studios across Long Island), for his "Courage in the face of life's obstacles." In addition, he received the 2018 Kempo Open Champion, 2019 BJJ Pride Champion, and 2019 NAGA (North American Grappling Association) Champion - in two different divisions.
"At Shaolin Self Defense Center of St. James, we train in the morning an teach at night," says Sensei Mike. "We are not just your average karate studio; we are more that that an we welcome everyone in!"