Spuntino's Restaurant St. James
420 North Country Road
St. James, 11780
W: http://www.Spuntinoonline.com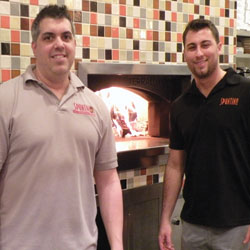 Since opening their doors in 2014, Spuntino of St. James has made a name for themselves, synonymous with consistent quality and care. Since then, they have become the place to go for "Old World", Wood Fired, Brick Oven Pizza, but that's just the beginning of the story.
Spuntino was bold and confident enough to take over what was once an abandoned building, but had the vision to see that it could be turned into the kind of place where its patrons can enjoy a setting that was both classy, yet 100% casual. Completely renovated from the ground up, Spuntino is pure class, boasting both traditional Pizza and Entrees that we never get tired of, with several new and innovative offerings.
From Spuntino's brick oven try the "Formaggio". Only one word comes to mind…heavenly!! Literally, no sauce. The fresh mozzarella, accompanied by the creaminess of the ricotta and pecorino romano, married with the nuttiness of the asiago cheese and then hitting it again with shredded mozzarella with a hint of garlic oil. Savory, crazy cheesy goodness!! Spuntino also offers a 12" personal size pizza, made with fresh mozzarella cheese and their signature margherita tomato sauce…. perfect for sharing, before your entrée.
Their menu is vast, so I will just mention a few dishes that I would like to recommend. For starters, try the PEI Mussels Rockefeller, prepared with bacon, spinach and onions in a garlic cream sauce with seasoned bread crumbs. It's a huge portion, so come hungry. There is an abundance of pasta options (29 in all). "Fettuccine Spuntino" is a bountiful portion of blacked shrimp and chicken, accompanied by fresh sautéed zucchini, yellow squash and oven roasted cherry tomatoes in a roasted garlic cream sauce and asiago cheese. Rich, fresh and flavorful. The "Chicken Scarpariello" I ordered was not so traditional. Served in a rosemary brown sauce were whole chicken thighs with thin sliced sausage and peppers, onions and potato. An old time favorite that never loses its popularity. For the lighter fare, Spuntino has a wonderful selection of seafood entrees, including fresh salmon, filet of sole with a host of shrimp entrees to choose from. It's not just about the food and the ambience mind you, the staff at Spuntino is eager to please, never finding yourself looking over your shoulder for your server.
The menu selection is so extensive, that coming back regularly means that you will always find something new to try. A family owned business with years of successful operation makes Spuntino of St. James the place go to in town.
OMG….Almost forgot to tell you. Finish your meal off with the Nutella and Banana Pizzette. Ask the server to add little mounds of cannoli too! Sinfully irresistible!