Bruce Cabinet
350A Woodbine Ave
Northport, 11768
W: http://www.brucecabinet.com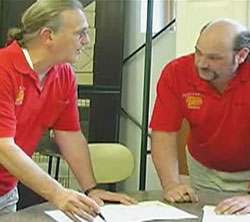 After fifty years in business, Bruce Alber, Sr. of Bruce Cabinet in Northport is proud of everything he has built, from his quality cabinets to the reputation of his business.
"We are a family owned and operated business known for our premium craftsmanship since 1965," said Bruce, Sr.
Bruce Sr., and his son, Bruce Jr., make sure every job performed by their full-service design and installation shop is individually created to fit customers needs, giving them the opportunity to choose from a vast selection of exceptional goods.
This full-service custom woodworking shop offers products with and without installations. They service kitchens, baths, interiors, countertops, cabinets and appliances as well as cabinet installation, plumbing and electrical work. Bruce Cabinet also provides alterations for ceilings, windows, doors, floors, and more. They perform custom furniture work like library bookcases and entertainment centers as well as boats, yachts and commercial installations. The father and son team and their professional staff offer ready-made cabinet lines such as Merillat, Kountry Kraft and various European style cabinets for kitchens and baths. They also install beautiful countertop styles including: stone, granite, terrazza, cement, corian and formica, among others.
The majority of the work done by Bruce Cabinet are complete renovation and kitchen makeovers. Many clients no longer have time to clean and maintain kitchen cabinets which explains why installing products with ease of maintenance is one of their most popular requests. No matter what installation service or product you may need, the Bruce's are sure to have the answers, commodities and services to meet your needs. Their longevity in this business has armed them with the skills and knowledge to meet and exceed the needs of their customers. In addition to their considerable experience, they also keep up on all the latest trade news and expert workmanship.
Bruce Sr. Expresses: "We are proud to have numerous citations from professional organizations such as the National Kitchen and Bath Association. In our designs, we feel it is important that customers have an opportunity to see as many choices as possible. Also, every one of our products meets EPA and all environmental safety standards. The integrity of our products is just as important as the beauty of the design."
Bruce Cabinet knows that home is where the heart is; it's part of what has kept them in business for fifty years. Call for a free estimate at 631-261-1033 or 516-768-9413 (evenings). Check out their website at www.brucecabinet.com. Located at 351A Woodbine Avenue (corner of 25A, Northport).