GenReady
128 Pulaski Road
Kings Park, 11754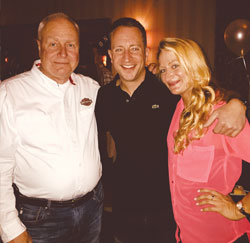 After hurricane Sandy in 2012, people were out of power for weeks. No lights, no heat, no nothing. For days on end, all you could do was wonder when the power would return. People weren't prepared and generators were in high demand. Hurricane season or not, it can happen at any time. It's just a matter of being ready for a storm without having to worry, which is where GenReady of Kings Park can help you.
The family owned and operated GenReady is committed to their trusting and reliable installation practices. Owner Ed Reiff, a licensed electrician for forty years, has developed a passion for what he does. Since he started the business in 1979, they've successfully stood by Generac generator sales, installations, warranty and maintenance.
With the assistance of his daughter Lindsay and son Andrew, they take pride in giving customers the best products and services available. At GenReady they help protect your home by installing permanent Generac Home Standby generators. In the case of a power outage, their generators are what keep the lights on and power up anything in your home including heat and refrigeration.
Similar to a central air conditioning unit, the Generac Home Standby generator sits outside. It delivers power directly to your electrical system, and turns on automatically­. It runs on natural gas or liquid propane fuel supply and can either backup the most essential items or your entire home.
Andrew, who runs the GenReady crew, is present at every job. In as little as eight hours, they'll have you with an operating generator so you're ready to take on the next storm. Rest assured all the local, state and national codes are followed, including plumbing for making fuel connections.
The entire staff at GenReady are knowledgeable and dedicated professionals. Every technician is factory trained and certified for repairs and maintenance, as they are a Generac warranty station.
Celebrating their 40th year in business, GenReady prides themselves in delivering quality products and a smooth delivery experience. They handle the entire job including the permitting process, the plumbing and electrical installation and all servicing and monitoring of the generator once installed. In 2015, they were even awarded by Generac as the Top Growth Dealer over a three-year period.
At GenReady they're more than happy to give you tips on how to prepare and provide you with some of the best power solutions. You can also learn more about their services by visiting their website
www.GetGenReady.com. So why wait for the next power outage when GenReady can help you prevent it now? Call (631) 544-0400 or visit 128 Pulaski Rd., Kings Park to receive your free in-home assessment.