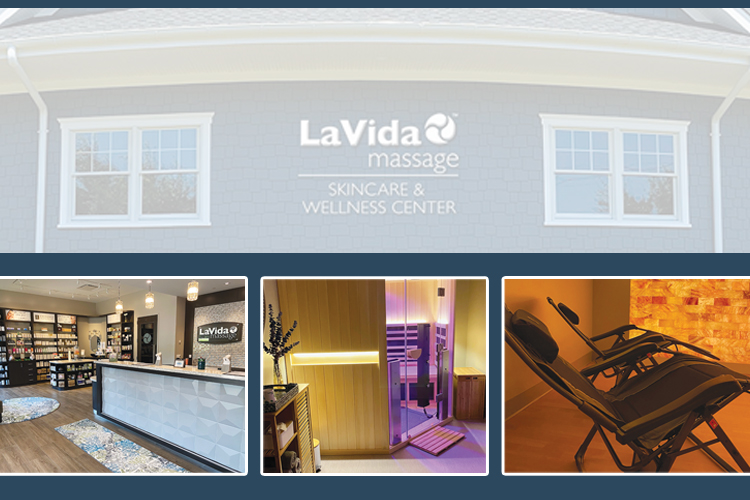 ---
---
---
On August 6th, a bright and sunny morning, Jim and Jessica Nuzzo, owners of LaVida Massage, opened their new, expanded location at 119 Terry Road in Smithtown. After 10 years of serving Smithtown and the surrounding areas with massage and skincare in the Uncle Giuseppe's Shopping Center, they have moved to a new location to better serve their clients. LaVida is expanding into wellness with services that now include Halotherapy (Dry Salt Therapy), Infrared Sauna, Cryotherapy, Lymphatic Drainage and more. LaVida Massage is now LaVida Massage, Skincare & Wellness Center.
---
Jessica and her husband, Jim bought LaVida Massage in 2012. "We were only offering Massage at the time, and had six employees," she recollects, "but with hard work, dedicated employees and a vision of personalized treatments at affordable prices with the best customer service, we were able to grow into what we are today." And grow, they did! Ten years, over 30 employees, and thousands of services later, LaVida has become one of the largest Massage and Skincare centers on Long Island. They are recognized as the leading HydraFacial provider in the area with a Diamond rating. "We could not have become this successful without our extremely talented, compassionate and dedicated employees, including our General Manager." Gail Apel, has been the General Manager of LaVida since 2014. "We each have our role, and we love what we do. Along with our Lead Esthetician, Rachel and Lead Massage Therapist, Rostana we have been able to develop the right set of services for our community and that has been proven by the growth we have seen."
---
With over 1,000 sessions performed each month, the local owner/operators needed to expand. While searching for the perfect space to better serve their clients, the Smithtown couple began to work with First Development Corporation. When First Development shared their vision of creating a Hampton's style shingle building in Smithtown, the Nuzzo's knew they had found their ideal location. "Things happen for a reason," Jessica says with a smile. "We were able to design the perfect space for our needs – and build it from the ground up. Meeting Bob, David and Alison at First Development was fate. I just knew it!"
---
One year after breaking ground, LaVida Massage, Skincare & Wellness Center has opened its new doors and is welcoming the Long Island community not only to the Massage and Skincare that the award-winning center is known for, but to new wellness services that will only add to the healthy lifestyle of their clients. "It's a dream come true!" exclaims Jessica, "We've always wanted to expand into wellness and invest in a building of our own. Everyone has been so incredibly supportive, and our team has worked so hard to make this happen. It's truly touching. We hope to have a celebration in October when we are settled and bring those who have not yet experienced LaVida into this wonderful family!"
---
LaVida Massage, Skincare & Wellness Center is located at 119 Terry Road in Smithtown, New York. Offering therapeutic massage, custom skincare and wellness therapies along with natural and organic products, LaVida allows men and women to look and feel their best without drugs, invasive treatments, or down time. With Licensed Massage Therapists and Estheticians and a friendly, knowledgeable staff, LaVida offers a first-class experience at an affordable price.Call to book your appointment today at (631) 979-9000 or visit online at lavidasmithtown.com.
---
---
---