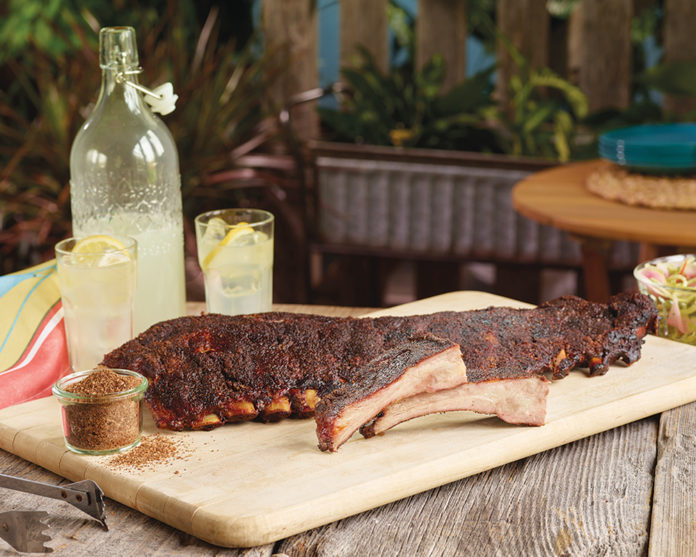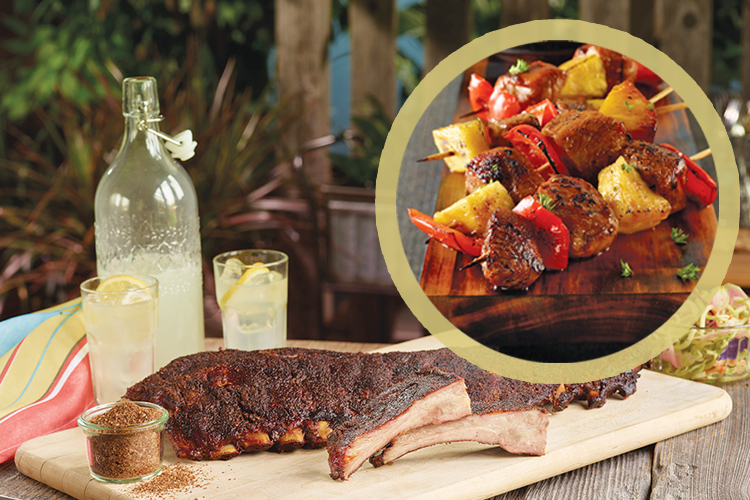 St. Louis Style Pork Spare Ribs 
with Coffee Cocoa Dry Rub
Recipe courtesy of pitmaster Chris Lilly
Prep time: 10 minutes    Cook time: 3 1/2 hours    Servings: 4-6
7 teaspoons salt
2 tablespoons dark brown sugar
4 teaspoons chili powder
1 tablespoon ground coffee
2 1/2  teaspoons unsweetened dark cocoa powder 
2 teaspoons black pepper 
1 teaspoon garlic powder
1 teaspoon onion powder
3/4 teaspoon ancho chile pepper 
1/8 teaspoon coriander
1/8 teaspoon turmeric 
2 racks Smithfield St. Louis Style Pork Spareribs,
    membrane removed 
    Build charcoal fire for indirect cooking by situating coals on one side of grill, leaving other side empty. Heat grill to 250° F.
    To make dry rub: In small bowl, combine salt, brown sugar, chili powder, coffee, cocoa, black pepper, garlic powder, onion powder, ancho chile pepper, coriander and turmeric.
    Generously apply dry rub onto front and back of pork ribs. Gently pat to ensure rub adheres.
    Put ribs meat-side up over indirect heat, away from coals, close lid and cook until ribs are tender, about 3 1/2 hours.
    Remove ribs from grill and let rest, uncovered, 5 minutes. Slice ribs between bones and serve.
    #14184   Source: Smithfield   (Family Features)
Pineapple Pork Kebabs
Recipe courtesy of pitmaster Sterling Ball
Prep time: 10 minutes   Cook time: 1 hour    Servings: 3-4
1/2 Smithfield Prime Boneless Fresh Pork Loin 
1 sweet onion, cut into 1-1 1/2-inch square pieces
1 red bell pepper, cut into 1-1 1/2-inch square pieces
2 cups pineapple chunks 
3-4 tablespoons barbecue rub
2 1/2 cups teriyaki marinade 
3-4 flexible skewers
    Heat grill or smoker to 250° F. Cut pork loin into 2-inch cubes.
Season pork loin, sweet onion, red bell pepper and pineapple chunks with rub.
    Thread pork loin, onion, pepper and pineapple on skewer;
repeat until length of skewer is almost full. Repeat with
additional skewers.
    Put assembled kebabs in large re-sealable bag and add teriyaki marinade. Carefully remove air from marinade bag and refrigerate 20 minutes.
    Remove kebabs from marinade bag and place on grill over
indirect heat; cook 12-14 minutes, remove and set aside.
    Increase grill temperature to 400° F. Sear kebabs at high heat, until caramelized. Using meat thermometer, check pork loin cubes for doneness; remove from heat once pork reaches internal temperature of 145° F.