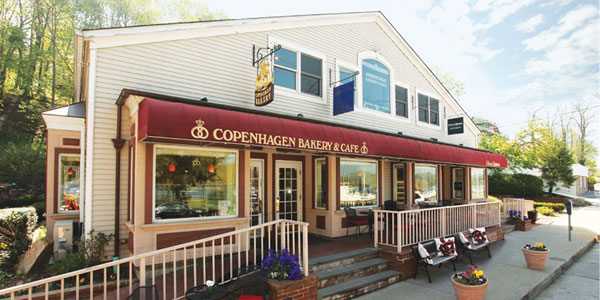 Joanna Adduci is a Northport resident,
currently working as a writer. She has a B.S. in Journalism from St. John's University and is active within her community working as a blogger and musician. She enjoys cooking, traveling, hiking and performing with her dad in their LI-based cover band, Next Generation. Joanna can be reached by e-mail at: joanna.adduci10@gmail.com.
Copenhagen Bakery & Cafe is one of Long Island's most underrated, hidden treasures. Upon entering this waterside, international-inspired oasis, you're greeted by smiling faces and delightful aromas of freshly baked breads and pastries alike. Whether you're in the mood for a hearty breakfast, light lunch or quick snack – this bakery (and cafe) has something for you – all at a reasonable price.
On my routine Sunday morning visit, I stick to the Copenhagen Omelette or an Egg Sandwich. Their breakfast menu consists of fan-favorites such as Waffles, Pancakes, French Toast, Eggs Benedict, Egg Sandwiches, Breakfast Burrito, Omelettes and Crepes. Everything is sensibly priced under $10, excluding the large omelette which is a mere $10.95.
Apart from quality ingredients and a warm, inviting atmosphere, I visit Copenhagen weekly for their bread. That's right, the bread. Their piping hot, sweet and sometimes savory, hearty crusted, notably flavorful, breads. Whether I order Country French, Cranberry Walnut, Sunflower or Sweet Potato – I have never been let down. They have loaves and rolls, and I generally opt for my egg sandwich on a Sweet Potato Roll. (To say it's good is an understatement.)
Their lunch menu is simple and to the point. Their "Veggie Burger" is a black bean burger with red onion, avocado, tomato salsa, and romaine lettuce. If meat is what you seek, their "Barbecue Pulled Pork Wrap" is out of this world – served with cheddar cheese, creamy jalapeno and dill dressing, cucumber salad, coleslaw and homemade potato chips. The "San Francisco BLT" is a classic while "The Dutchman" is a more adventurous mix of roast beef, caramelized onions, mushrooms, cheddar, mayo and a hint of hot sauce on a French baguette. Lastly the "Monte Cristo", an audacious combination of ham, Gruyere cheese, and honey mustard aioli and their in-house "Grilled Cheese", a savory, oozing blend of cheddar, American and Gruyere. All lunch items are under $11 and served with sweet potato chips, homemade potato chips, coleslaw or cucumber salad.
Since 1998, Copenhagen Bakery and Café has been providing quality goods, with a special attention to their roots – showcased through their in-house Scandinavian specialties. Customer favorites include their Almond Bear Claw, Almond Horn and Danishes.
Everything they make is "prepared without preservatives and baked fresh every day; [even the] whipped cream is 100% dairy and the breads are always made the morning of and never sold the next day." This attention to detail and quality assurance sets them apart from every bakery in a relevant vicinity.
They are open Monday through Saturday, 5:30 a.m. to 6 p.m. and Sunday, 5:30 a.m. to 4:30 p.m. – nestled on the water, in Northport Village. I wholeheartedly recommend Copenhagen Bakery and Café, and urge you to visit them for a meal in the near future.