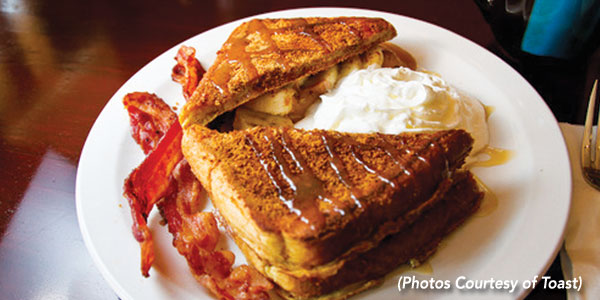 Joanna Adduci is a Kings Park resident, currently working as a writer. She has a B.S. in Journalism from St. John's University and is active within her community working as a blogger and piano teacher. She enjoys cooking, traveling and performing with her dad in their LI-based cover band, Next Generation. Joanna can be reached by email at joanna.adduci10@gmail.com or you can visit her personal blog
https://foodiefreelancer.wordpress.com/

Upon first glance, Toast is your typical neighborhood coffee shop. It is only after you walk inside and witness the hoards of people waiting for a table, that you realize there must be something distinctively special about this place. Instead of waiting an hour for a table, I opted for a seat at the bar. A fan of community-like seating, I was more than happy to join some of the locals and observe their breakfast choices whilst browsing the menu.
The breakfast menu is organized in a seamlessly logical manner, with sections including: Omelets, Breakfast Burritos, Scrambles, French Toast, Pancakes and Waffles. Gluten-free options come in surplus, and 100% real maple syrup is available for a mere $2 up-charge.
Some items that stood out to me included the Sweet Potato Pancakes with Honey Butter and the house-recommended Avocado BLT Omelet. While I opted for something simpler, I will be trying these on my next few visits to Toast. (They also offer a lunch menu, as Toast is open until 3:00-3:30 which includes lite bites, salads, burgers, wraps, and house specialties.)
After ten minutes of indecisive mental banter, I ordered the Early Riser "Eggs Any Style" choosing two organic farm-fresh poached eggs, bacon, sausage and home fries. If you're trying to watch your waist, or have certain dietary restrictions, they offer multiple substitutions including fruit, egg whites, multi-grain toast, and gluten-free variations of their crowd-pleasing favorites such as the pancakes, French toast and waffles.
While I waited for my breakfast, I perused the drinks menu. And let me tell you, the drinks here deserve their own menu. Cold beverages, coffee drinks, smoothies, and mimosas – the list seems never-ending, with something for everyone. I ordered a vanilla cappuccino, made with almond milk. To say this cappuccino was good would be iniquitous. (I would consider this the best cappuccino I have tried to date and that's saying a lot.) Served piping hot, in a quirky mug, it was love at first sip. They offer regular milk, soymilk and almond milk – just to name a few. All of their mugs are uniquely chosen (no two alike), and this small, but important, detail resonated with me as something that would keep me coming back. The non-commercial nature of Toast is one of their greatest assets in my opinion.
When my food arrived, quality was noteworthy and the home fries were excellent. Cooked just right, seasoned perfectly – these are a must-try if you're visiting Toast for breakfast. As I enjoyed my breakfast, I studied the atmosphere and patrons who seemed to be truly enjoying their experience. The décor is charming and there was a lengthy wait for most of the early afternoon.
Whether I'm working on my next review, craving a first-rate cup of coffee or simply in the mood for some authentic breakfast food, I will be back at Toast soon. I highly recommend you visit them at their Port Jefferson or Patchogue location for an authentic, sincerely gratifying dining experience.