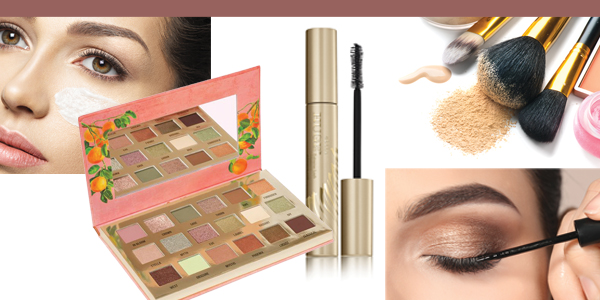 Jennifer is an Account Manager at a beauty public relations agency in New York City, from Long Island. She has a bachelor of arts in communications and marketing from SUNY Cortland and is interested in all things travel and beauty. Jen can be reached by email at jennifer.mcnicholl5@gmail.com!
If someone told me a year ago that wearing a face mask would become the norm in 2020, I'm honestly not sure I would have believed them. No matter where we've been going, adding a face covering as an accessory to our outfits is part of a daily routine that will no doubt continue well into, if not, the end of this year. Just because half of our faces are continuing to be covered, doesn't mean that we should completely give up on our skincare and makeup routines. It's still necessary to take care of our eyes and ensure they make a statement whether we're taking a trip to the store, on a zoom call, going to a socially distant gathering, etc.
Mask-friendly eye makeup has become the trend, and will be for a while, so if you haven't already, now's the time to start perfecting it. If you're not sure where to start (or like to discover new products) keep reading for a step-by-step process on how to create a great eye look using some of my favorite products!
Step 1: Eye Moisturizer
To prep the skin around your eye, consider using the Belif Moisturizing Eye Bomb ($48, belifusa.com). It's lightweight, refreshing silky-textured eye cream floods fine lines, boosts elasticity and increases resilience of skin for flawless makeup application.
Step 2: Concealer & Lid Primer
To even out the color of your skin, use your fingers to pat the Cle de Peau Concealer SPF 25 ($73, cledepeaubeaute.com) under your eyes. I love that this concealer has SPF in it to add more protection around the eyes.
Step 3: Eyeshadow
I've recently discovered the brand Lime Crime, and have become obsessed with their Venus XL 2 Eyeshadow Palette ($58, limecrime.com). This earthy shadow palette includes 18 shades in a buttery-smooth formula with 6 different finishes. Note, the secret to eyeshadow lasting longer is priming your eyelids beforehand.
Step 4: Eyeliner 
You can never go wrong with a drugstore brand like Maybelline. Their Eyestudio Hyper Easy Liquid Eyeliner ($8.99, maybelline.com) is a great liquid eyeliner that delivers the smoothest glide and lasts up to 24 hours. (If I'm going for a casual daytime look, I'll sometimes skip this step.)
Step 5: Mascara
I'm extremely particular about my mascara and I've been using the Stila Huge Extreme Lash Mascara ($23, stilacosmetics.com) for years! You can get major volume, length, and curl with an intense black color.