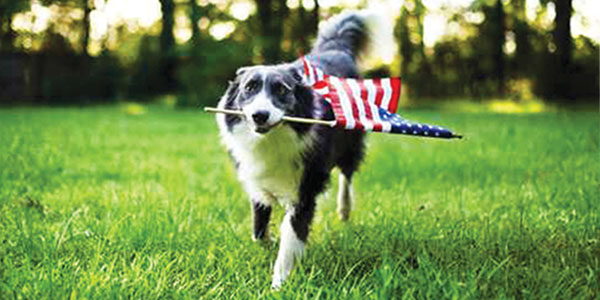 Kimberly Mockler is active with deaf/blind dog rescue, as well as herding dog rescue and regularly fosters for local dog rescues. Kimberly is often spreading awareness and education about adopting, living with, and training deaf and blind dogs through her small organization
called Parker's House. Two of her dogs
are also therapy dogs with Paws for
Friendship. She can be reached at
deafblinddogrescue@gmail.com
Memorial Day is the unofficial start of summer. What better way to celebrate the beginning of the season of long, hot, lazy days then with your dog! Memorial Day is also a day to reflect on our nation's soldiers (both two-legged and four-legged) and the sacrifices they have made for all of us.
One great way to celebrate a doggie Memorial Day is to visit the U.S. War Dog Memorial located at the New Jersey Vietnam Veterans' Memorial in Holmdel, New Jersey (an hour drive from New York City). This bronze statue on a black granite base is of a Vietnam War soldier kneeling beside his dog and was dedicated on June 10th, 2006. While the soldier depicted in the U.S. War Dog Memorial is a Vietnam War soldier, the memorial honors all war dogs and their soldiers.
Another fun way to celebrate Memorial Day with your dog is to attend your local Memorial Day parade. Please make sure your dog is people and dog friendly, well-socialized, and isn't afraid of crowds and loud noises. You can dress your dog up with a red, white, and blue bandana, bow, or collar.
It wouldn't be Memorial Day without a BBQ, picnic, or some beach time! Take your pup along (as long as he/she is well-behaved and well-socialized). Most dogs love hot dogs and hamburgers. Watermelon is also a tasty and healthy treat for dogs. Make sure your dog doesn't overindulge in the festivities and make sure they do not eat foods that could make them sick (onions, grapes, avocadoes, garlic, chocolate).
If your dog enjoys socializing with other dogs and likes to run around, a trip to your local dog park is always fun. Or even invite some neighborhood dogs over and have a doggie party in your backyard. Set up an agility course, kiddie pool, your garden hose, take out some fetch and water toys and let the fun begin!
Long Island is slowly but surely becoming more dog friendly. More parks and beaches are now allowing dogs. Find your local dog friendly park and take your pup on a nice long walk in a park or the woods or for a refreshing swim. It is tick season so be sure you use tick preventative and check your dog for ticks afterwards.
After a long, hot day of playing and having fun, most dogs enjoy a cool treat. You can purchase pre-made doggie ice cream or freeze some water and peanut butter, banana, chicken or beef broth (or whatever snacks your pup likes) into a small container or dog toy. Then enjoy watching your dog have fun while cooling off!
Other fun activities for Memorial Day are teaching your dog a new trick and visiting your local dog store and getting a new summer toy to play with.
No matter how you choose to celebrate Memorial Day, if your dog is included, you will have a great holiday! Happy Memorial Day!