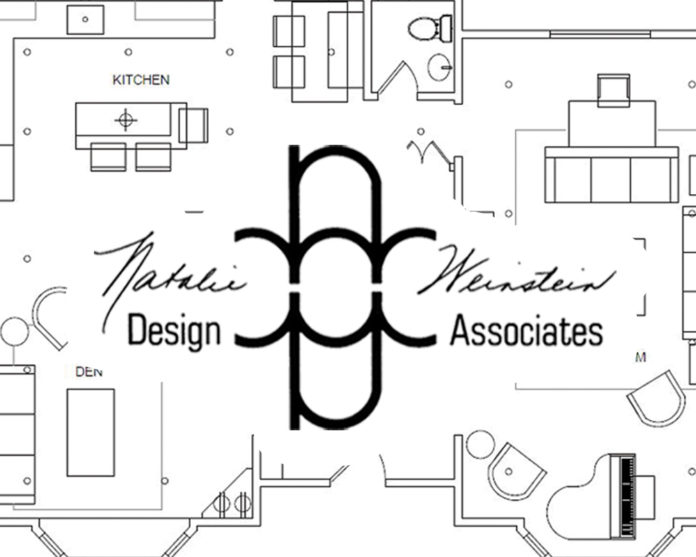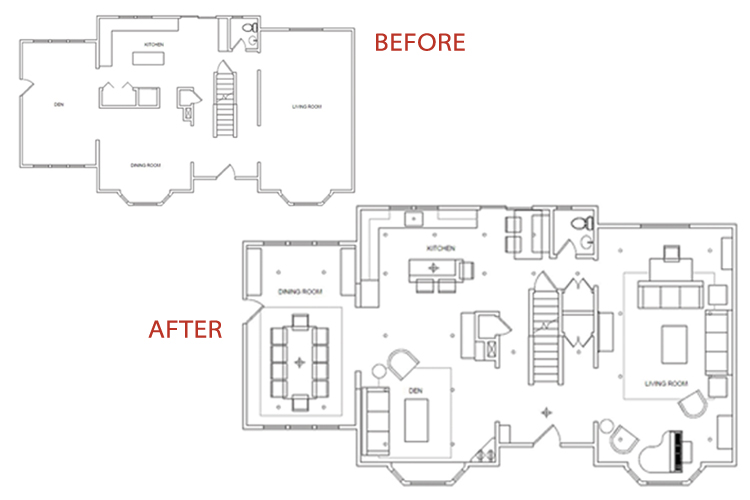 Over the many years as a designer and even before, I have always been intrigued by make-overs – clothing, hair and make-up and then, of course, decorating.  The make-overs I have been able to accomplish in homes, offices and public spaces have gone from minor changes with significant results to complete re-dos with astonishing results!  These results and their outcomes not only have transformed the space, but the people using them.
A fresh pair of eyes (especially a designer's) can entice even those most set in their ways to new possibilities.  So let's examine how a designer, like myself, begins the transformation:
First and foremost, we look at the space presently available and the possibilities if some spaces were reversed.  For example, if your dining room has always been a problem because it is too small, consider switching the dining room and living room spaces, especially if the unused room is larger and close to the kitchen.  Formal living rooms today may not even be needed.  Perhaps relocating it to a smaller space would transform it into a more useful  space such as a library, wine room, or music room.
If you have an older home, you may want your make-over to include more open spaces of today's lifestyle. For example, a kitchen/den combo, or great room connecting your living room, dining room and den.  Here, some renovation work will be necessary.  You may need to remove or alter a wall.  This will not only require additional funds for your project, but a longer duration of time where you may be inconvenienced.  Your decision will involve weighing the temporary negatives with the future positives.
One example that immediately comes to mind is a home in St. James.  This wonderful couple had an older Colonial with a very large living room,  small(ish) kitchen, normal (not oversized) dining room and small den which was half of a two-car garage.  The amazing transformation came from:
a – Relocating the den to the large living room
b – Moving the dining room to the old den space
c – Taking down the wall between the kitchen and old dining room
d – Enlarging the entryway into the new dining room
After the clients digested this major proposed renovation, they realized that by using much of their existing furniture, their expenses would be in the same necessary areas they originally planned (i.e. kitchen, flooring, and painting).  Now the renovation's additional cost seemed worthwhile for their lifestyle and investment in their home.
These adaptable clients were able to think outside of the box.  What about you?  Time for another look at your space?
A new world brought creative thinking to everyone in business, especially designers. Since the pandemic, I have provided design advice and completed projects via zoom, face-time and good old phone conversations. It's amazing what can be accomplished when people connect, even if it's only face to face remotely!
Design firms like mine are able to create "to scale" floor plans with a computer program that can print the room sizes we enter along with furniture sizes we select.  Once all clients are assured we don't have to sit at their kitchen table to provide floor plans, product selections and budgeting, we cut down home and in-store visits to few or none. (I still like to send or accompany my clients to a pre-selected store or showroom, by appointment, to sit on upholstered seating.) Additionally, we have become quite adept at creating "LOOK BOOKS" to enable those with very little powers of visualization to see their spaces. We include floor plans, pictures of plumbing fixtures, tile, kitchen and bath cabinet elevations, light fixtures, furniture, area rugs, paint colors, window treatment fabrics and designs, etc., along with a budget breakdown. It's a lot of work and time consuming, but it really helps the client make good choices.
Our project supervisor visits the site with our general contractor, and prepares the estimate; when the project is approved, and the schedule is set, one trade works there at a time (masked of course), and away from the client.
Yes – it's a different world – a world where things take more time, (even though we may want to set the deadlines) because renovation is slower and design products take longer to produce and be delivered. It is a good time, however, because many more in stock items are on sale to enable suppliers to generate revenue. Take advantage of this time to do your design project. It's always smart to plan, get advice, and set your budget parameters so you will be happy with the end result. Working with a designer to get you to the finish line will surely save you time and money.
They will be with you throughout the hardest parts of the project:  the beginning, creating the best floor plan selections, and the end, choosing accessories, as well as all the steps in between. If there is an open and clear-cut dialogue between client and designer, this process will help complete a project on time and in budget.
Our home should always be our safe haven. Now, more than ever, with parents and kids working remotely, everyone needs to have their space and families need more places in which to gather and have fun. These wants and needs will still apply long after the pandemic is over. So value your home, treat it well, and include the professionals to make your life easier and less stressful.