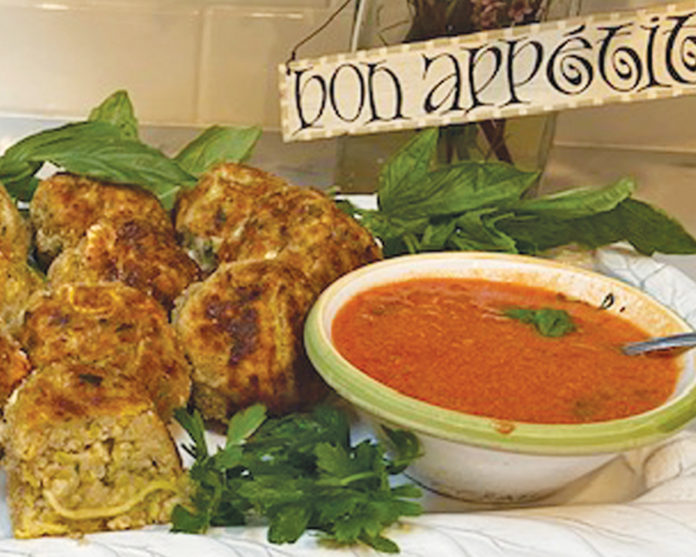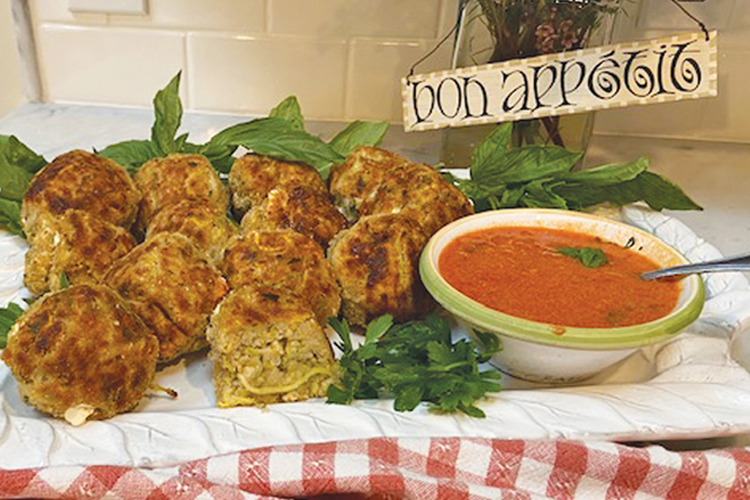 I hope you're having an amazing funfilled summer! I have especially been enjoying the warm weather, spending time outdoors and the long 3 day weekend that included Fourth of July!  It has been a special time filled with family, friends and long days of gatherings.
Now, speaking of holidays and entertaining, here's my latest creation for continued summertime meal ideas—
zucchini meatballs
. A meatball totally independent of meat!
These delicious zucchini meatballs will have your taste buds spiraling out of control! You will not miss the meat after taking one bite out of this veggie meatball alternative.  These treats are filled with spiralized yellow and green zucchini, fresh basil, fresh parsley, fresh mozzarella cheese, ricotta cheese and grated cheese.
The meatballs are shaped and lightly rolled in Italian flavored bread crumbs on a cookie sheet drizzled with liquid gold (olive oil)–they crisp up nicely. Italian inspired, these tasty zucchini meatballs, with the most sumptuous moist and cheesy texture, make for the perfect appetizer.  They can also be served as a light healthy main course, accompanied with a side of fresh marinara sauce and an antipasto or green salad.  Your friend, Dishin' with Denise, would remind you that cooking with care, creativity and inspiration will surely produce great recipes.  Always use the freshest ingredients and your food will be bursting with flavor! This versatile summer squash has unlimited possibilities and many health benefits. Perhaps these meatballs will become "the new normal," although as for me…I'm not ready to give up my beef!     "Mangia"…Denise xoxo 
Recipe Yields: 24 large zucchini balls 
(you can make smaller for appetizers or snack size.)
8 large zucchinis (4 green, 4 yellow) 
    lightly peeled and spiralized or buy them already cut that
    way. I like to cut up a bit with a scissor to make the long
    strands more manageable for rolling.
2 large Vidalia onions chopped 
    and sautéed in a frying pan until soft and light brown,
1 cup fresh chopped parsley
1 cup fresh chopped basil
1 cup grated Locatelli cheese
1 lb. of fresh mozzarella (cut into cubes)
1 lb. of whole milk ricotta 
Pinch of red pepper flakes
Fresh black pepper 
3 large beaten eggs
1 ½ cups bread crumbs + more for rolling
1/3 cup olive oil + ½ cup more for brushing cookie sheet
    (it helps to brown up without frying)
Put your spiralized zucchini into a large pan with the olive oil and sauté for 4-5 minutes. The zucchini will release a lot of water, so drain and cool completely.
When cool:  Be sure the sautéed onions are completely cool as well. Now add all other ingredients and mix well. Working carefully with your hands, shape into meatballs and roll lightly into a dish of bread crumbs. Continue shaping, then place on cookie sheet and bake in a 400 degree oven for 15-18 minutes or until golden brown. Keep on Rolling…..xoxo