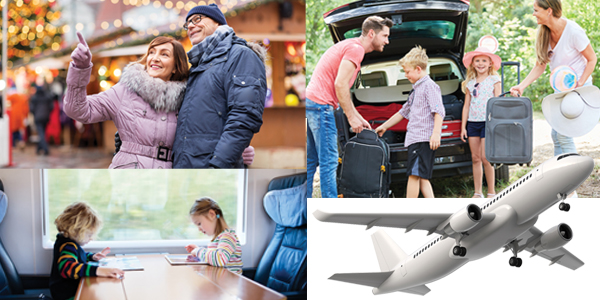 Yvonne Bonasera holds a Bachelors degree in International Business from LIU and JCU in Rome, Italy. In addition to being the Director of Operations at LICC, she is a travel consultant/ blogger and teaches Italian. Yvonne has visited over 30 countries across 5 continents. She can be reached at ymbtravel.com.

Traveling is always a great adventure!
It's also a great way to get the
family together and make
memories this holiday season!

Travel is one of the greatest gifts to give. Experiences and memories outlast the things we stow away in jewelry boxes or the attic. The gift of a memorable experience truly keeps on giving. Spending time with one another is a treat for everyone. Here are some ways to make it happen!

Book in Bundles
From now until early February, there are a lot of last minute deals on websites such as Expedia and Priceline. Bundling can often result in a free hotel stay as opposed to booking separately.

Be Flexible
Convenience is key. Tweak the holiday to fit what works best for your family. What would happen if you celebrated with your in-laws on the 23rd and then jetted off to an island with your loved ones? You'd have a great time, that's what! Don't confine yourself to specific dates, it's the holiday season for a reason! Some of the best flight deals can be found on Christmas Eve, Christmas, or New Year's Eve.

On the Road
Google Trips predicts travel times based on anticipated traffic. Pack plenty of snacks & games for your little ones! An EZ Pass coupled with a before dawn or after 8 PM departure are best to avoid traffic slowdowns. Don't forget about public transportation. It's often quicker, but not necessarily cost effective when traveling with multiple people.

Flying
Pack light; carry-on bags only. Don't risk losing your luggage. Go minimalist to travel with ease. Many airlines now charge for checked luggage, but don't waste the money. Travel internationally during popular American holidays. Yes, booking that trip to Paris can actually be CHEAPER than heading to Florida, especially Disney. Skip Epcot, see the real thing instead!

Expert Tip: booking two one-way tickets can be cheaper than booking round trip flights.

Go Where Everyone Isn't
Typically the warmer the weather, the higher the fares. Escape NY weather by going for mild climate destinations. You'll miss the crowds and score some great deals. Cozy up by the fire pit, bundle up and have a beach vacation. Winter is an ideal time for the east end if traveling off Long Island isn't an option. You'll enjoy low nightly rates, less crowded restaurants and vineyards.