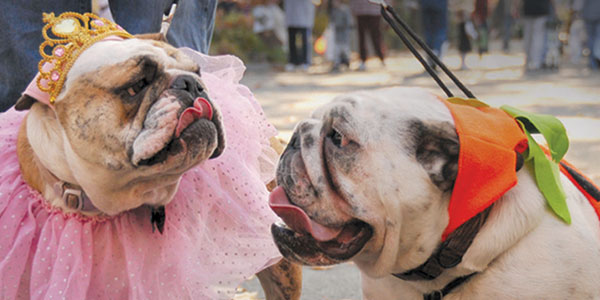 Holly Levis is a radio show host and an award winning journalist. She also owns and operates "Petport Pet Food and Supply Company in Northport."
Questions or comments welcome: holly@petport.com. This article reviewed by Dr. Diane Levitan, VMD.

As the colorful autumn sky cascades across Long Island, it's the perfect time of year to take advantage of the nice weather with our canine companions. It's also a good time to tune into the overall health and well-being of our furry family members.
When pet nutrition and fitness become priorities, everyone can lead a happier and healthier existence. Exercising the mind becomes as important as exercising the body. It's wellness from the inside out, as we explore some of the latest trends in PET care.
Many of us are being more mindful of what we feed our pets. Good nutrition requires more than putting food in a bowl, as the trend shifts from picking up inexpensive corn-based kibble at the grocery store to feeding the best natural foods on the market.
Premium pet foods with boneless meats as the first ingredient are a first choice for many of our customers. You may notice an important slogan on many premium pet foods: "NO poultry by-products, corn, wheat or soy." These ingredients can trigger food allergies in hyper-sensitive pets, too. All natural foods are the trend. Fillers and by-products, are OUT.
Petport owner/operator Holly Levis shares, "Healthy skin and coat comes from the inside out. Proper nutrition is key. Add omega oils to the diet. It helps with dry, itchy skin." Regular grooming keeps your pet's coat looking and feeling its best. The latest trends in shampoos are all natural, chemical and sulfate-free products that contain colloidal oatmeal, aloe, shea butter and coconut oils.
Since pet obesity is a major health threat, keeping pets in shape is vital. A good dog is a tired dog. Petport owner Holly also adds that "Getting enough exercise not only helps weight control, it can solve many behavior problems. From barking, to destructive chewing and displaced aggression, exercise relaxes your dog."
The training trend is behavior modification and positive reinforcement. The use of punishment is no longer accepted. The American Veterinary Society of Animal Behavior has denounced the use of chokers, prongs-collars and shock collars as inhumane and dangerous to the health of your pet. Such tactics may also trigger aggressive behaviors. Positive, consistent communication is key.
As we celebrate Halloween, it can be a scary time of year for pets. Petport consultant Dr. Diane Levitan, Board Certified Internal Medicine Specialist at Peace, Love and Pets Veterinary Care in Commack, reminds us to take these precautions:

1. KEEP your pets away from doors. It's stressful when many different people come to the house. It's easy for them to escape when trick-or-treaters arrive. Be sure that your pets have proper ID.

2. Chocolate, raisins and sugar free candies containing xylitol are poisonous to pets. Should ingestion occur, seek emergency attention right away.

3. Make sure your pet is comfortable in its costume and that it's not restrictive. It's important to be sure the material is not flammable. Pets can be curious about lanterns, candles and pumpkins – you cannot be too careful," says Dr. Diane Levitan, VMD.