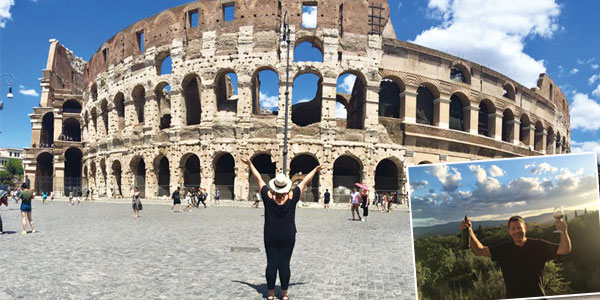 Joanna Adduci is a Northport resident, currently working as a writer. She has a B.S. in Journalism from St. John's University and is active within her community working as a blogger and musician. She enjoys cooking, traveling, hiking and performing with her dad in their LI-based cover band, Next Generation. Joanna can be reached by e-mail at: joanna.adduci10@gmail.com.
I started taking Italian when I was eight years old. I continued until the time I was 22, and spent years dreaming of Italy and my own "Under The Tuscan Sun" experience. This year, my dreams came true and I was able to spend 30 days traveling throughout the country. What began as a solo trip, ended up becoming a family affair, as my dad and sister bought tickets and decided to live out their European dreams with me. (Later, my two friends would join as well!) My dad, who I am lucky to call not only my parent, but also my friend, had never visited Europe before. His idea of a vacation was the comforting, short journey to the family condominium in Florida. His anxieties about taking a seven-hour flight almost got the best of him, but he made it across the way, and together we shared one of the best months of our lives.
It took me three months to plan the details of this trip, including flights, trains, apartment rentals, sightseeing tours, day trips and more. I wanted everything to be perfect. We'd start in Tuscany drinking wine from there, we'd pass through Florence to visit Cinque Terre. This would be the perfect opportunity to spend some time seaside. After visiting the coast, we'd head back to spend a week in Florence, followed by some time in Rome.
Tuscany was everything we dreamed of. We spent a week gorging ourselves with local cheeses, fruits, meats and wines. We stayed at Il Maraviglio B&B, where our host Matteo showed us the beauty of simplicity. We visited wineries, took cooking classes and enjoyed lengthy dinners chatting with new friends from all over the world.
Cinque Terre is dreamlike. Small cobblestone streets, incredible views and even more memorable meals. We used AIRBNB and rented apartments in Riomaggiore and Manarola, and spent the majority of our time swimming in the sea. Simply put, it was perfect.
Florence is a city to be loved. Small enough to walk, filled with history, art and music. We spent our time walking throughout the city, eating gelato and visiting museums.
Rome is an imprint in time. We visited the necessary monuments – the Colosseum, the Roman Forum, and more. We resided in an apartment, ate cacio e pepe, drank negronis, and toured The Vatican. It was wonderful.
Visiting a new place is always a remarkable experience. This time was a bit more special because I was able to share it with my dad. Seeing his face as he drove through the Tuscan hills and walked through The Colosseum – it is something that will stay with me forever.