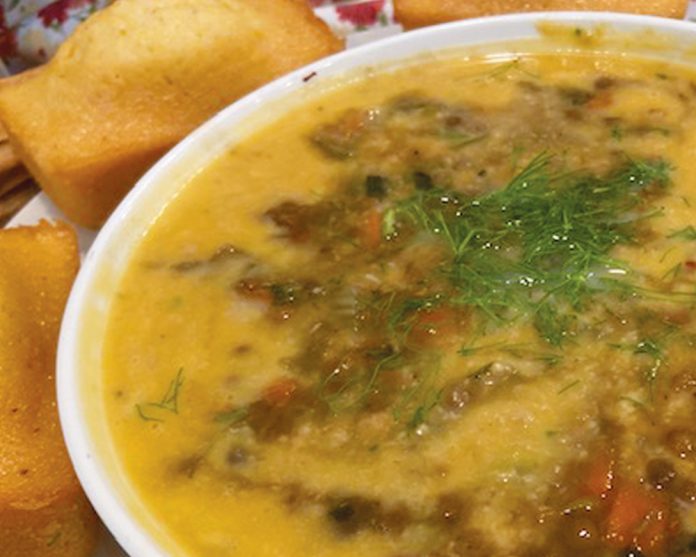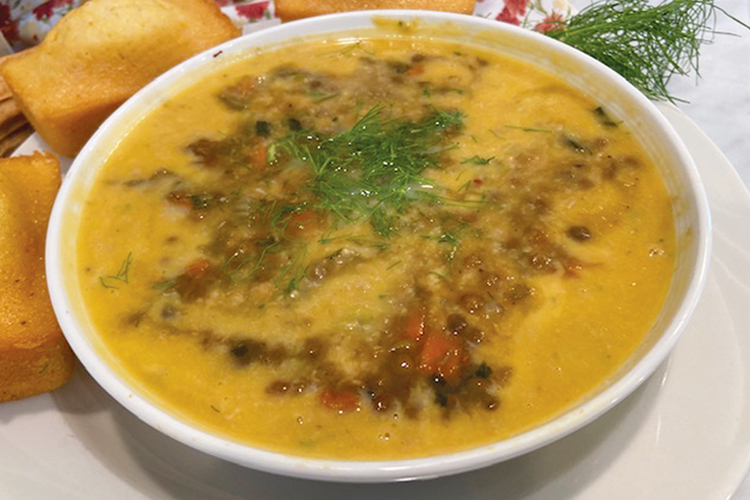 A roasted butternut squash (with sausage) soup, blended together with lentil soup. Combining these delicious soups together brings out amazing flavors and yes, Luck…for the New Year. The real find for me here was adding the unique spice called Rasel Hanout—a North African spice blend which when interpreted means, "The best you can buy in the store" or "Head of the shop." I ordered it online and absolutely loved the flavor. Some of the many spices found in Rasel Hanout include: ground coriander, allspice, cumin, cardamom, cinnamon, fenugreek, grains of paradise, cayenne pepper, nutmeg, turmeric, paprika, ginger, rose petals and oregano. The warm, delicious aromatic taste is sure to inspire your culinary repertoire and palate.
Lentil Soup was traditionally served in my family on New Year's Day to bring luck. The round shape of lentils are considered both a symbol of prosperity and good luck, either way, a great soup to start off 2022. May it be a Happy New Year! Enjoy! xoxo Denise
For Butternut Squash Soup:
2 medium butternut squash, peeled and cut into pieces,
brushed with olive oil and roasted in oven until soft.
8 Italian sausage links decased, broken into pieces and
browned in a frying pan, (drain and let cool).
1 large can of chicken broth
Blend sausage and butternut squash together (in small batches, using a blender). Set aside.
For Lentil Soup:
1 16 ounce bag of organic lentils
2 Vidalia onions chopped
2 T fresh chopped parsley
1 leek chopped
1 fennel cut into pieces (save fronds for garnish)
3 stalks celery diced
5 carrots diced
5 T extra virgin olive oil
1 large can chicken broth
1.5 T Rasel Hanout
Using a large pot, sauté onions and leeks in olive oil until soft. Add celery, carrots, fennel, and lentils, (sauté for 3 minutes) and then add chicken broth. Cover and let soup cook on medium heat until lentils and vegetables are tender. Now blend the soup in blender, saving 2 ladles unblended for texture. Mix unblended with blended.
Now fold together both the butternut squash soup and lentil.  Add 1.5 T of the Rasel Hanout spice and blend well. Add parsley and taste for salt and pepper or additional Rasel Hanout if desired. Garnish with fennel fronds.