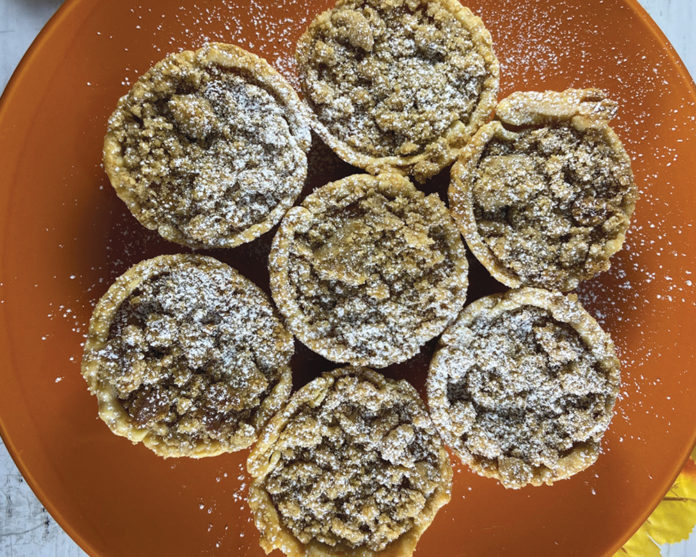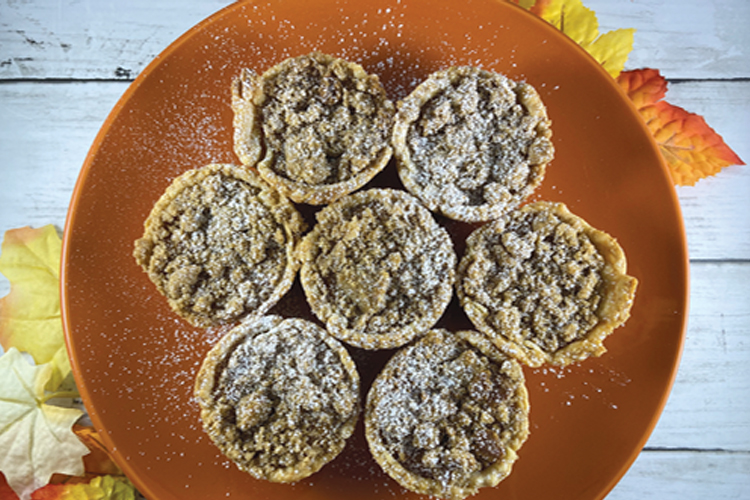 Prep Time: 1 hr.  Servings: 18
---
Time: 40 minutes
Here's What You Need: Double-layer pie crust
2 2/3 cup all-purpose flour, plus extra flour for rolling
1 teaspoon salt
2 tablespoons sugar
1 cup cold butter or cold vegetable shortening (or a blend of both)
6 – 8 tablespoons ice-cold water or orange juice (maybe up to 8 depending on weather)
2 – 12 cup standard size cupcake pans
2 – Cookie sheets lined with foil or parchment for easy clean up (optional, but recommended)
Here is How You Do It:
Using your fingertips, rub the first four ingredients together until the mixture is crumbly and still has some larger chunks of butter/vegetable shortening Add to this approximately 6 tablespoons of ice water or orange juice. Gently mix with both hands the water into flour/butter mixture until a dough is formed, adding an additional tablespoon of water if dough feels dry.
Divide dough in half, roll it into 2 balls, flatten into two disks, wrap it in plastic wrap, and let it rest in the refrigerator for about an hour.
Pumpkin Filling
Here is what you need:
15 ounces solid pumpkin
14 ounces sweetened condensed milk
2 large eggs
2 teaspoons pumpkin spice OR 1 teaspoon ground cinnamon, ½ teaspoon ground ginger, ½ teaspoon ground nutmeg
½ teaspoon salt
For the Crumb Topping: ¾ cup flour, ½ cup brown sugar, ½ stick butter, and 1 teaspoon cinnamon. Place all ingredients in a bowl and, with your fingertips, mix together until it is combined and forms crumbs. Do not over-mix.
Here is How You Do It:
Preheat oven to 425 degrees.
Remove one pie dough disk from the fridge and divide disk into 9 equal portions. Coat portion of dough in flour. Roll out each piece of dough into a 6-inch circle. Repeat this process 18 times. Then line each 6-inch round circle of dough into the cavity of a cupcake pan to create 18 individual tarts. Using a fork, pierce each bottom 1 or twice to create vent holes. Set cupcake pans on top of cookie sheets lined with parchment or foil aside.
Filling: Whisk together pumpkin, sweetened condensed milk, eggs, spices, and salt in a bowl until fully- combined. Pour ingredients into the pie shell and bake on a cookie sheet for 10 minutes. Turn oven temperature down to 350 degrees and continue to bake for an additional 15 minutes, then pull pie out of oven top with streusel topping return back to oven to bake; be careful, pie is hot. Continue to bake for 15 minutes, then remove pie from oven to cool.
Storage: Set in fridge uncovered until pies reach below 41 degrees, then cover and enjoy within 5 days. Too much to do in one day? The dough could be prepared the day before and can be kept in the refrigerator up to 1 week or frozen for 1 month. Pie must be kept refrigerated.