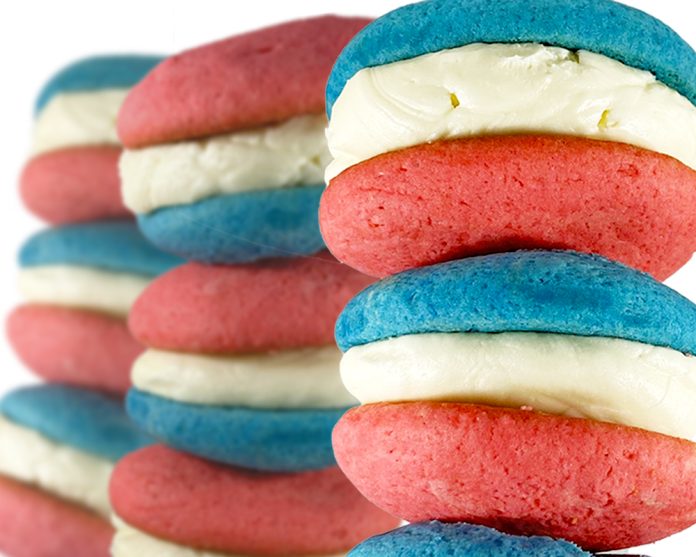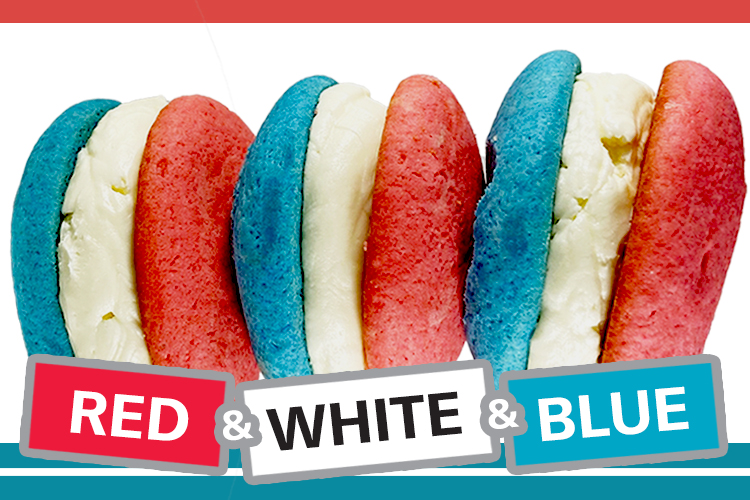 Yield : 15 – 17 Sandwich Cookies
Baking Temperature : 350º  ~  Baking Time : 15 minutes
---
HERE IS WHAT YOU NEED :

 
2 cups all-purpose flour
1 ¼ teaspoon baking powder
½ teaspoon table salt
1 ½ sticks unsalted butter, at room temperature
¾ cup granulated sugar
1 large egg at room temperature
1 teaspoon vanilla extract
Red and Blue food dye
HERE IS HOW YOU DO IT :
Preheat your oven to 350 degrees. Line two cookie sheets with parchment paper or grease.
In a medium-sized bowl, mix together flour, baking powder, and salt; set aside.
In a large bowl, using an electric mixer on a medium to low setting, cream butter and sugars together until combined. Beat in egg and vanilla. Slowly pour in flour mixture until a dough forms. Divide dough evenly into two portions and color with 3 drops of food dye or until you reach your desired shade. If dough is sticky, place in fridge until firm enough to handle (about 1 hour).
Using your hands, roll cookie dough into 1 ½ -inch balls (about the size of a walnut). Place cookies on prepared cookie sheet about 2 inches apart. Then using your hand press down and flatten slightly before baking. Bake in the oven for 15 minutes, or until lightly golden-brown at the edges. Cool for 5 minutes before transferring to cool on a wire rack.
---
BUTTERCREAM FILLING
HERE IS WHAT YOU NEED :
1 stick unsalted butter

 

2 cups confectioners sugar
½ teaspoon vanilla

 

1 teaspoon water
HERE IS HOW YOU DO IT :
Beat butter until smooth then slowly pour in confectionery sugar. Add vanilla and water, (mix at high speed until fluffy).  
Turn one cookie upside down, and place a spoonful of frosting on top. Then, top with a cookie right side up! Repeat. Store in an airtight container in the fridge.
---