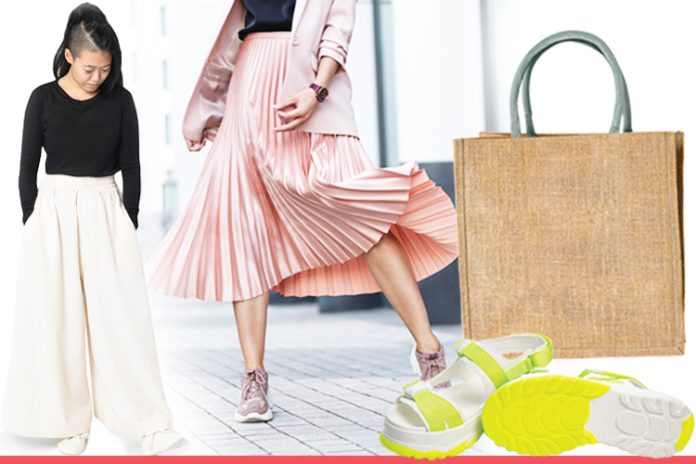 Getting outside and feeling the fresh spring air is something we collectively look forward to with bated breath. Designers unquestionably sense the impending spring fever in the air and have responded with collections that can be described as joyful, upbeat, lighthearted, and whimsy.
This season's colors can easily be described as sorbets or neon. Rich corals, bright yellows, electric green, Tutti Frutti pink, and deep lavender. The only exception is crisp white which, while not a spring surprise, is refreshing and lovely with the styles of the season.
So, let's talk about styles. One of my favorites it the white suit. Shown loose-fitting and somewhat flowy, this latest take on the suit is both elegant and classic. Liquid metal is another top look for the season. Many designers have opted to avoid embellishments, including sequins, which have been identified as harmful to the environment. Instead, they have given us sheer, metallic fabrics (liquid gold and silver). 
Extra-long pleated skirts are a popular item, the opposite to the micro-mini skirts also hitting the stores this season. Pants are quite low rise, baring midriffs for the wearer. Puff skirts are a lovely option, particularly when paired with a fitted top for a minimalist look. Many dresses and tops will be found with cut-outs or multi-strap options. Afraid to bare too much skin, add a biker jacket over your outfit., the biggest jacket trend in leather, suede, and more. Maxim dresses will be a big trend again this year, with cleaner, straighter lines than in past years. Oversized blazers are back, but fear not; the 80's are back completely. The '22 version is more structured and can be found with a single button or with a multiple button, single-breasted design. Looking for a longer look? Try a trench coat, the outerwear sweetheart of the season.
One of the biggest trends of the season: super-sheer fabrics, particularly for dresses. They are, however, one of the least practical options you can expect to see on the racks. Instead, opt for bold stripes, fringe, or ultra-feminine, soft frilly lace – all expected to be top choices for the season.
Big, bulky totes will be seen all around town, likely paired with platform shoes or feminine ballerina flats. Other trending handbag styles are the petite clutch, structured multi-pocket totes [for work], an updated bucket bag, and crocheted market totes.  Sport sandals and sneakers are among the footwear styles you should expect to see frequently – another sign of designers responding to the need to get outdoors after so much time. Gladiator sandals are making a return this spring, a style that will likely carry on through the warm summer months. Heeled pumps, wedges, and espadrilles are in again and can be found in all the best colors of the season. 
So, smile as you choose your ensemble each day. Enjoy the styles, enjoy the colors, and, most of all, enjoy dressing to be out and about once again.