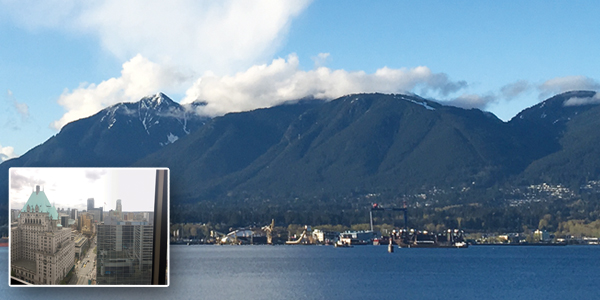 Joanna Adduci is a Northport resident, currently working as a writer. She has a B.S. in Journalism from St. John's University and is active within her community working as a blogger and musician. She enjoys cooking, traveling, hiking and performing with her dad in their LI-based cover band, Next Generation. Joanna can be reached by e-mail at: joanna.adduci10@gmail.com.
Vancouver is a city to be loved. From the moment you fly into this charming city located in British Columbia, you're sold on it. A seaport oasis, surrounded by lush mountains – this place truly offers something for everyone. One of the most astounding food scenes I've come across in years, live music, theater, comedy, art, and a surplus of outdoor activities – they've got it all.
As if it couldn't get any better, Vancouver has one of the most ethnically diverse populations in the world, and the people are insanely friendly. I mean it's almost unnerving how friendly they are. Ranked "Top 5 Most Livable Places in the World" and "Top 10 Cleanest Cities in the World", the streets of Vancouver are immaculate and the culture is unparalleled.
I was lucky enough to stay downtown during my quick three day visit. Located just a swift walk from Stanley Park, Vancouver Art Gallery, Convention Centre and Robson Street, the location was prime. Although I was consumed with work during the day, I used the afternoons and evenings to explore the area. The city is small, and most sights are within walking distance.
Reminiscent of Europe, this city provides an air of nostalgia, with awe-inspiring sights available for your viewing pleasure just around familiar street corners. During a brisk afternoon walk, I saw the water from a distance and decided to venture out for a photograph. Located adjacent the Cruise Ship Terminal, I found a small pub and was greeted with a blanket and a Guinness. I looked out onto the mountains and spent some time writing and simply admiring the view. This afternoon will remain as one of my favorite travel moments to date, simply because of the surrounding beauty and solitude.
After conversing with the waitress, I was on my way to explore 'Gastown', a recommended neighborhood for food and drink. Located between Granville and Main, this picturesque area is filled with restaurants, breweries, bars, shops and more. I retuned to Gastown three times during my visit and each time experienced excellent meals (poutine, fresh fish, smoked meats and more!), met unforgettable people and fell more in love with the culture.
There's something almost indescribably captivating about this place. I'm not sure if it stems from the friendly folk or the quality expressed in everything from food to music – but it is a city that I would urge each and every one of you to visit. Whether you're looking for an outdoor retreat, a killer music scene or some incredible foodie finds, Vancouver is the city for you. Run, don't walk.