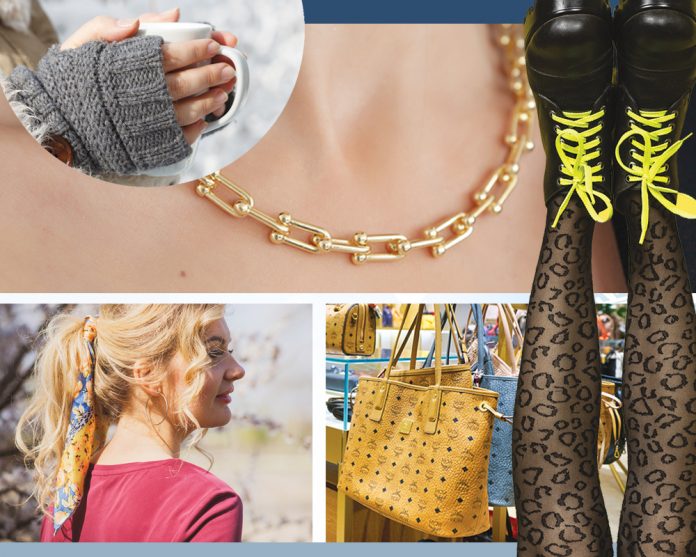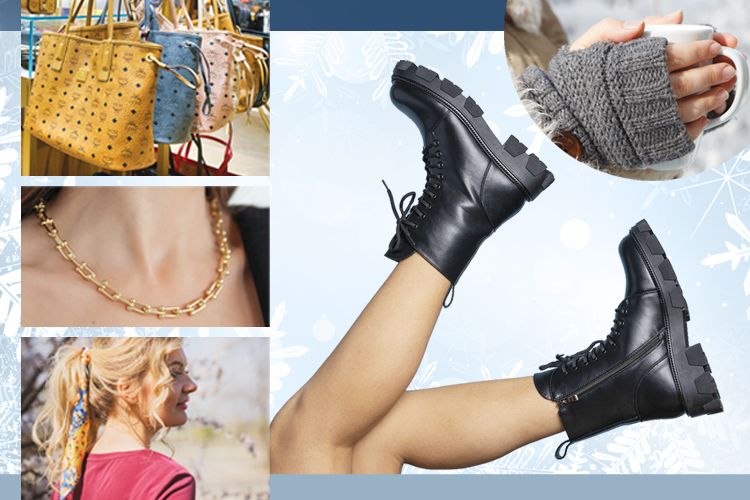 Winter fashion is filled with lush fabrics and lavish designs. No matter the item, the season is ripe with fashion treasures. Accessories for winter are often the most luxurious. They can take any outfit from fine to fabulous with the special touch they bring. We are heading quickly into the cold weather winter brings. Let's look at some of the top accessory trends you can expect to see in stores and worn around town this winter.
Popular outerwear accessories this season include gloves…and more gloves. Long gloves traveling up the forearm were a top trend at the winter runway shows. Fingerless, faux fur trimmed, and rich colors are all on trend this season. Have you seen an abundance of large pom-pom hats? That's because they are the top style for women, particularly when paired with a matching, extra-long scarf. Cable-knits and other snug fabrics are what you will find when browsing for the style.
Footwear trends this season feature boots going higher and higher – this year landing thigh-high. Alternatively, you may prefer one of the many styles featuring embellishments like appliques, lace, and sparkly faux stones. Heeled loafers and lug-heeled low boots are also hot styles. Slippers and flats can only be described as furry and fluffy, with faux fur or marabou.
Two significant trends for handbags are polar opposites: extra-large, super-sized totes and/or smaller clutches shown in super-soft leathers. Minimalist black bags featuring large-scale logos are another top trend. In fact, large logos are popping up on belt buckles and crossbody bags, and an array of other accessories.
Do you love jewelry as part of your ensemble? Try a chunky, chain-link bracelet or necklace paired with statement earrings. Pearls are experiencing their fifteen minutes of fame, turning up on clothes, accessories, shoes, and more.
Looking for an accessory that is retro, practical, and stylish? Try a hair-wrap or scarf. Patterns this season are bold and beautiful, softened by the lux silks they adorn. Wear them to tie your hair back or to wind-proof your look on a blustery day (I suggest a few hair pins to hold it in place). You will radiate style and nostalgia with this retro accessory completing your look.
Other top trends include lots of faux fur on seemingly everything (a few mentions above should make this no surprise), bright colored and bold patterned tights, socks that make a statement, and large brooches.
It's difficult to purchase all the trends for a season, and no one would suggest that you do. Instead, see what you like in stores, on mannequins, and in magazines. Choose a few that speak to your sense of style and that you can add to your wardrobe seamlessly. Perhaps consider one item that has you stepping outside your comfort zone. You'll update your look without breaking the bank. Remember, this season is about comfort, sparkle, and feeling fabulous. Whatever you wear, make sure it speaks to all three.