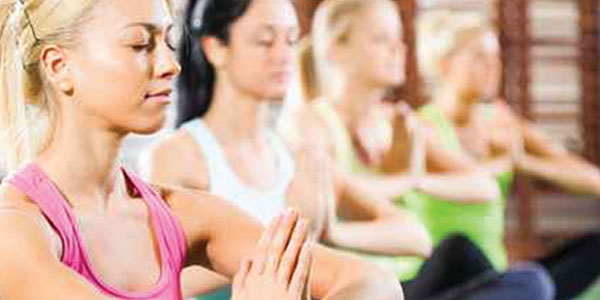 Nancy Kelly is a yoga teacher and personal trainer who teaches hatha, vinyasa, prenatal, restorative and children's yoga. She
encourages her students to use their yoga practice as a method
to improve their mental, physical,
emotional and spiritual health.
She can be contacted at nkelly1127@gmail.com.

Over the past few years, "wellness travel" has been growing in popularity and is now considered a major tourism trend. Yoga and wellness retreats are being offered around the world, including Mexico, Costa Rica, Hawaii, California and of course India (the birthplace of yoga).
If you are looking for a relaxing getaway that's only a few hours away by car, you might want to consider the three I've listed below. Each of these are reasonably priced, offer yoga and wellness classes and have other activities available as well. Of course, it would be amazing to travel to a foreign country for a yoga retreat and I truly hope to do that someday. However, I've been fortunate to visit two of these centers so far and I'm very grateful to have so many outstanding yoga retreats close to home.

Bedford Post Inn, Bedford, NY
(914-234-7800; www.bedfordpostinn.com)

This charming inn has eight guest rooms, two gourmet restaurants and a spacious yoga loft. This historic property was restored by Richard Gere and Cary Lowell and opened in 2007. The inn offers daily yoga classes, private sessions, wellness workshops and outdoor retreats in warmer seasons. It's set on several beautiful acres and has hiking trails available. A visit to the Bedford Inn is an opportunity to experience yoga and relaxation in an elegant and luxurious setting.
Omega Institute, Rhinebeck, NY
(845-266-4444; www.eomega.org)

Located on 195 acres in the Hudson Valley, the institute is a non-profit organization offering yoga, tai chi, and wellness and meditation classes. It's one of the largest and well-know retreat centers in the world. Retreats can include massage, acupuncture, health-coaching, kayaking, tennis and trapeze lessons. The institute is known for its commitment to the environment, so guests at Omega are given greater awareness of the impact that their lifestyle and actions have on the planet.

Kripalu Center, Stockbridge, MA
(866-200-5203; www.kripalu.org)

Located in the beautiful Berkshires, Kripalu is the ultimate wellness destination. This popular retreat center offers yoga and meditation classes as well as workshops that suit a variety of needs and interest levels. Outdoor activities are available in the warmer months such as hiking and kayaking. In addition, massage, facials and use of the gym, whirlpool and sauna are available throughout the year. The dining hall offers delicious organic food with vegetarian and vegan options daily. After a visit to Kripalu, guests feel relaxed, renewed and inspired to maintain a yoga lifestyle.