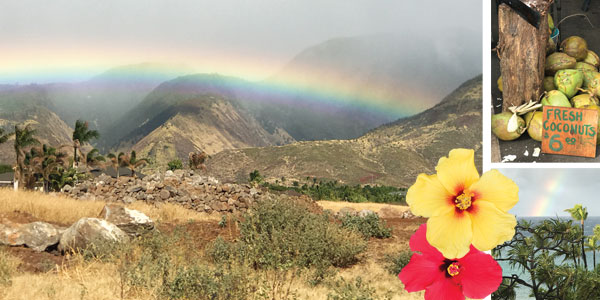 Claudia Fenner is a writer, photographer and travel enthusiast from Dix Hills. She loves to plan her family's vacations as well as help her relatives and friends with theirs. Have any travel questions you would like answered? Email her at travelingclaudia@gmail.
com. Happy Travels!

"It was the best of times… it was the worst of times." ~ Charles Dickens.
Actually…it was the best of TWO different times! We had the pleasure of visiting Maui with friends who are the polar opposite of us when it comes to vacation fun. They packed bathing suits, snorkel gear and plenty of suntan lotion. Day one, they took the ferry to Lanai and rented a jeep to explore the island. They snorkeled at Black Rock and Wailea almost daily.
We on the other hand, tend to enjoy activities that don't involve getting wet. We were both in luck as Maui was a perfect vacation for all.
Our week began with a whale watching cruise from the town of Lahaina. Located near the huge Banyan tree in the center of town, the port is home to a variety of ships that can take you fishing or whale watching. No advance planning is needed, you can just walk up and see when the next cruise leaves. A 2-hour tour runs about $50 per person.
We also revisited the Maui Tropical Plantation that we previously visited almost 30 years ago on our honeymoon. For $20 per person, they offer a wonderful 45- minute tram ride through the sugar cane fields with interesting commentary about the history of plants, fruits and crops in Hawaii.
Don't laugh, but we paid the Costco in Maui a visit! Not only did they have the cheapest gas on the island to fill up our rental car with; but they also had a huge selection of local items like: Maui chips, Ahi platters and macadamia nut candies. They even sell fresh flower leis. Only in Hawaii kids… only in Hawaii.
We drove to the Twin Falls, which is the first stop on the road to Hana. It's about an hour plus drive from the resort areas of Kaanapali and Wailea. A short five minute walk and you can view the first falls from above. A further ¾ mile walk on a gravel road brings you to the second. Do make a small donation or buy something at the farm stand by the parking lot. It's because of them that the falls are open to the public and they rely on donations for the upkeep.
Our meals ran the gamut from plain to fancy. We enjoyed Star Noodle, Paia Fish Market and Pho Saigon in Lahaina. Roys, Monkey Pod and the Honokowai Okazuya Deli rounded out our dinners in Kaanapali Beach.
Mark Twain called Hawaii, "The loveliest fleet of islands that lies anchored in any ocean." I agree with him 100%. Aloha to all.