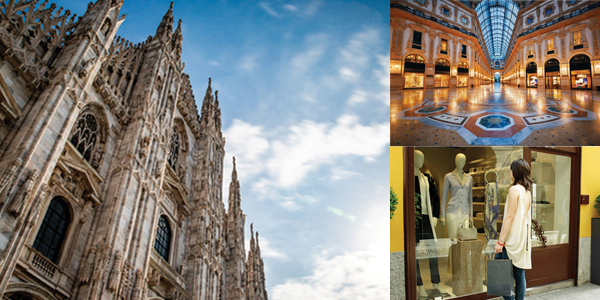 Yvonne Bonasera holds a Bachelors
degree in International Business from LIU and JCU in Rome, Italy. In addition to being the Director of Operations at LICC, she is a travel consultant/blogger and teaches Italian. Yvonne has visite­­­d over 30 countries across 5 continents. She can be reached at ymbtravel.com.

Milan isn't what most people think of when imagining "Old World" Italy. Offering a blend of style and luxury with subtle hints of tradition, it's modern, edgy, and chic. Milan is the center of commerce, banking, and design; Italians flock here ­­for work.
For tourists, Milan is the quickest route to Italy. The city is perfectly situated for day trips to Venice, Isola Bella, Lake Como, Bergamo, and Florence from Centrale station. Getting around is simple by foot or public transportation– which is reliable, affordable and safe. A day pass grants access to the buses, trams and subways that serve most of the city.
The Sicilian cafe, Lu Bar, serves the city's best cappuccino in a quaint glass atrium. Have an aperitivo at Dry Milano or one of the posh rooftop restaurants such as, Palazzo Matteotti or Ceresio
7 for stunning views of Milan. Head to La Chiesetta–a unique former church turned bar– or reserve one of only eight tables at Piccola Cucina. What it lacks in size, it makes up for in authentic, flavorful cuisine.
After window shopping some of the world's most elaborate displays on Via Montenapoleone, try one of the premiere designer restauants such as, Emporio Armani Caffè. Although it's dubbed a fashion capital, fashionistas aren't the only ones who get to appreciate the city's decadence. The glass roof and vaulted arcades of the world's oldest mall, Galleria Vittorio, date back to 1861. People watch in the Piazza del Duomo and admire the gothic architecture of the breathtaking 1386 cathedral. After all, it took nearly six centuries to complete.
Milan isn't all glitz and glam, it's also filled with culture. Explore the Castello Sforzesco before a world-class performance at La Scala, the famous opera house. Arcimboldi Theatre offers opera as well as ballet and modern dance. Schedule a viewing of Il Cenacolo (The Last Supper), the mural tucked away in an old church painted by da Vinci himself. For contemporary art, check out Fondazione Prada.
Visit the canals of Navigli,
a neighborhood known for the artsy bars where locals fill the streets of Colonne di San Lorenzo. Make reservations at Quei Due for an outstanding, traditional Neapolitan, brick oven pizza. Finally, escape the hustle and bustle at QC Terme for a day of relaxation at the Roman style thermal baths.
Though often overlooked, Milan is a true masterpiece where history, art, fashion and gastronomy come together.