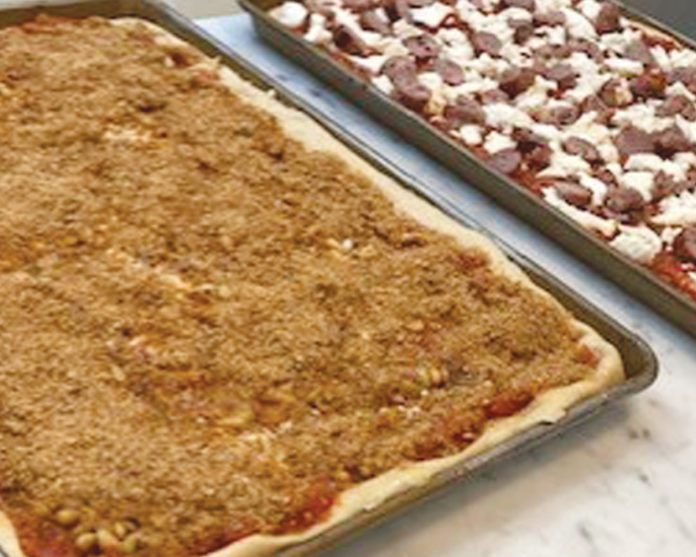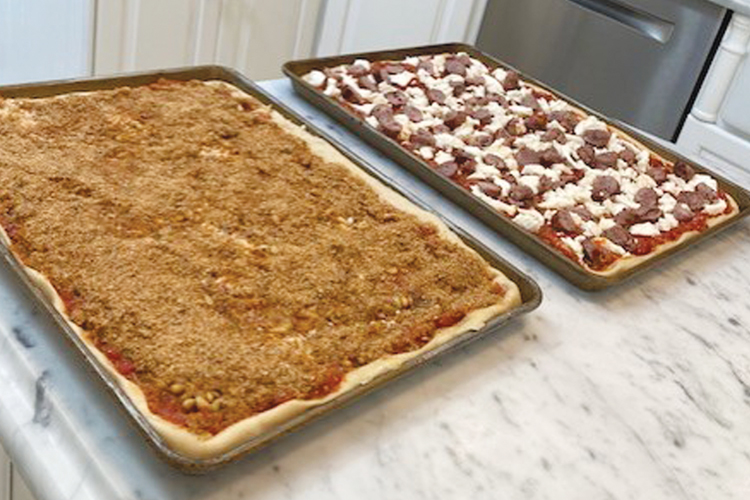 We have entered the season of holidays and warm family traditions. With food, try to imagine, create, eat and repeat! I lovingly think of how Italy has influenced the food culture in my life and around the world, where food is viewed as art, love, religious rituals, and of course family values. This recipe will introduce you to a Sicilian style pizza. Authentically known as Sfincione, it was created in the region of Palermo Sicily, a place that holds my heart and much of my beloved family. The difference between Sicilian pizza and Sfincione is that it's more of a focaccia with toppings—a wonderful and delicious simple food! Sfincione uses more oil, butter and/or lard shortening, and has a crispy more fried like bottom where the crust boarders up the pan, (either a rimmed sheet pan or cookie pan, that is rectangular in shape). In Sicily, the Grandmothers traditionally made this pizza dish on New Year's Eve, Good Friday, during Lent or for special family occasions.
A delicious combination of tomato sauce, brimming with soft sautéed onions, anchovies, toasted pignolia nuts, and caciocavallo cheese (made from sheep or cow milk and meant for grating). As for me, I'm a bit 'sheep-ish' so I use Pecorino Romano or Locatelli cheese, topped with toasted bread crumbs. Popular on the streets and towns in beautiful Sicily, food vendors line up selling pre-made Sfincione. Vendors heat up servings in their small ovens, (topping it off with a drizzle of Italian olive oil for delight).
This style pizza eventually found its way to America as a Sicilian or Grandma's pie. The Italian culture's love of family, keeps food as an important ingredient in everyday life and commemorates the extended, large family eat-together's… whether it's a holiday or not. I always make one pie with anchovies and one without, to please all the palates at this Nana's Palace – where the only form of payment accepted is a kiss! Once you make this recipe, you'll find that every day is a "Holiday" with Sfincione!
---
INGREDIENTS:
2 store bought pizza doughs (let rise)
6 cooked Italian sausage links sliced (for regular Sicilian Pie)
4 large Vidalia onions cut in ½ and sliced very thin
1 28 ounce can imported San Marzano tomatoes blended or crushed by hand
2 ½ T tomato paste
1 T dried oregano
2 T fresh chopped basil
1 teaspoon red pepper flakes
1 can anchovy filets (cut in little pieces)
Fresh ground black pepper, and Kosher salt to taste
1 1/3 cups grated Pecorino Romano or Locatelli l cheese
12 ounces or more diced fresh mozzarella cheese
TO PREPARE:
1. Saute onions in a large skillet until soft and caramelized. Add tomatoes, tomato paste, spices and herbs. Cook sauce on medium to low heat for 30 minutes. Let sauce cool.
2. Saute pignoli nuts in 2 T olive oil and set aside in small bowl. Using the same pan, with 1/3 cup olive oil and 2 cups seasoned Italian bread crumbs, slowly toast bread crumbs on low heat until golden brown.
3. Grease your pans well with butter or lard (on all sides including upper sides).
4. Gently stretch out pizza dough (I buy mine from a local pizzeria), then fit to pan with your fingers bringing dough up on all sides.
5. On one pan for Sfincione Pie, place anchovy pieces directly on dough, spread sauce over top, sprinkle with grated cheese and top with toasted bread crumbs, spices and drizzle with more olive oil. On the other pie (without anchovies), pan layer sauce, sausage, grated cheese, and mozzarella cheese, drizzle with olive oil and spices. Bake at 450 degree for 30 minutes.
Mangia! Buon Appetito!