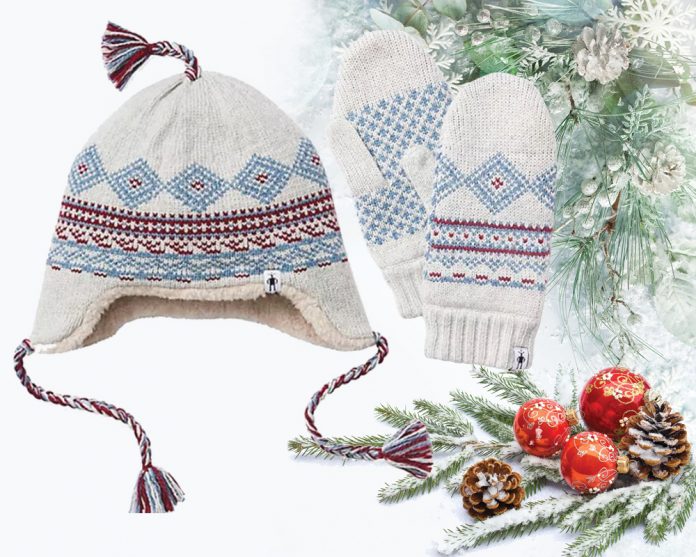 GIFTS FOR HER
1. Space NK Shimmering Spice Candle Trio (spacenk.com, $47): An exclusive Christmas candle with a unique cozy cinnamon, cedar and allspice scent that comes in a cute mini trio. Available in three different colorways, these minis are perfect for secret Santa or for adorning your home with the most festive fragrance around.
2. For the lady who loves her lashes…The Jenna Kit by Loveseen is a must. In a collaboration with Glossier's Ultra-Lip, Jenna Lyons styled three lashes with three lips to serve a full range of looks from natural to full-beat. (loveseen.com, $82)
3. The Gift Edition introduces Gucci Westman's two new limited-edition products. Featuring the NEW Lip Suede in Bordeaux, it provides four wearable matte lip shades (soft nude to delicate merlot, in one customizable lip palette). Then, to complement the lips (with a champagne glow), it also includes the NEW Lit Up Highlight Stick in color: Pärla. (westman-atelier.com, $133)
4. With the Slip Celestial Nights Gift Set you can bring a glamorous touch to a good night's sleep. The sleep mask and scrunchie duo are made from the highest grade, long fibre mulberry silk which reduces creasing and friction on the skin and hair. She'll absolutely love the bronze color and embellished crystal design too! (slip.com, $75)
5. Criss cross, open-toe slippers are the latest trend, especially for those who have worked from home for so long. The easy slip-on design makes for a unique fit and provides extra room for comfort. Available at nearly any store: Victoria's Secret, Kohl's, Target, Banana Republic, Amazon, Shein, etc., they come in a variety of different colors with options to suit every budget.
6. Smartwool has a great assortment of cold-weather accessories. Their Hudson Trail Nordic Hat ($60) and Mittens ($60) are not only adorable, but essential in keeping you warm. The wool and polyester blend ensures: breathability, temperature control and durability. Super soft, this hat and glove combo is great for all your outdoor travels. smartwool.com
7. For the coffee addict – the Whip Kit by (whippeddrinks.com, $49) provides all the tools for making the perfect whipped coffee at home in only 60 seconds. Kit includes: 1 high-speed frother – batteries included, 1 gilded frothing jug, 1 carton Whip sticks
(10 packets) and 1 recipe book…all wrapped in a gorgeous box.
8. Dainty personalized jewelry happens to be a big trend right now, especially the initial or name necklaces, bracelets and rings. CaitlynMinimalist on etsy.com lets you customize any piece of jewelry just the way you like and for a reasonable price! Whether you prefer wearing sterling silver, 18K gold, or rose gold, shop her page for a wonderful variety of handmade items.
GIFTS FOR HIM
1. For the guy who likes to ride his bike, the JanSport Bar Bag ($40) is the perfect gift. This versatile bike-bag can be used either on the bike, or as a crossbody bag while riding. Available in a variety of colors: Sego Canyon, Bleached Denim, New Olive and Soft Tan, he can fit all his necessities and more, while riding in style! Jansport.com
2. You can never go wrong with cologne. One popular favorite this season is Tom Ford's NOIR EXTREME SET which features a smoky, spicy amber scent and combines top notes of: mandarin oil, saffron, cardamom, neroli and nutmeg. Although considered a unisex fragrance, it's intimate and romantic – especially nice to wear during the cold weather months. Price: $190. (Comes with 100ml bottle and 10ml travel size.)
3. We've all sang the song, "99 bottles of beer on the wall." Well, fun is brewing across the board with Beeropoly (uncommongoods.com, $38). In this beer drinking game, players take turns rolling the dice and through a series of challenges (never have I ever, make a rule, guys/girls drink, rhyme, etc.), they get to move their bottle cap around. The last man or woman standing, drinks. Cheers!
4. The Grizzly Cabin Slipper (bespokepost.com, $65) is a must for all men this holiday season. Even for simply lounging around the house – doing nothing, these will have him looking good. The open back, slip on moccasin style and plush faux fur lining calls for the perfect warmth this time of year. (Note: handcrafted from leather these will stretch a bit over time, so go down if you're between sizes.)
5. The new Bose QuietComfort Earbuds truly set the standards high in terms of noise cancellation, audio quality and all-day comfort/stability. They include Bose's latest software update and have a battery life of up to 18 hours. Available in Triple Black, Soapstone, and two limited-edition colors: Sandstone and Stone Blue (bose.com, $279.99)
6. For the guy who spends much of his time at the gym, why not gift him a deep tissue back and body massager. You can find handheld massagers at nearly any retail store ranging anywhere from $30-$300. Depending on different muscle groups, many of them also come with replaceable heads to reach all areas, whether it be your back, neck, knee, etc.
7. If he has a lot of toiletries but no good place to put them, felixstreetleather on etsy.com has the solution with their monogramed Waxed Canvas and Leather Toiletry Bags. Made of the highest quality, full grain leather, they can be personalized however you want. Perfect for all his travels (either near or far), they are capable of withstanding any weather, even the most extreme of temperatures.
GIFTS FOR US
1. The 6-in-1 Espresso Maker by Chefman, lets you create the perfect cup of coffee – just the way you like it. More powerful than most, it's got high-capacity water and milk reservoirs, simple controls, and everything you need in order to whip up single or double espressos, cappuccinos, and lattes. (bespokepost.com, $160)
2. What better gift then a tabletop Personal Concrete Fireplace to emit a cozy warmth
on those chilly nights? Safe for indoor use, it gives off heat through a flickering light (with
a clean flame and no carbon monoxide). Just fuel it with 5 ounces of isopropyl alcohol and it will burn for up to 50 minutes – enough time for indoor marshmallow roasting! (bespokepost.com, $99)
3. Harry and David gift baskets and boxes are perfect because there are so many options to choose from based on personal preference and budget. One in particular is the Sweet and Savory Holiday Gift Box with Wine ($109) which is both adorable and full of the finest gourmet food and wine.
4. For the couple who spends a lot of time cooking, what better gift than a personalized cutting board. From PersonalizationMall.com, The Classic Kitchen Personalized Bamboo Cutting Board – a professional-quality board with cut-outs on the bottom for easy carrying, is great. Combine the natural tones and hand rubbed olive oil finish and you have a unique addition to your kitchen. ($34.99-$39.99)
5. Deceiver: A game of observation, deception, and laughter. Test your knowledge of your family and friends by answering yes or no questions. Everyone is dealt a card with
questions except for one player who is dealt the deceiver card and has no questions.
Figure out who the deceiver is to win!
(amazon.com, $29.99)
6. What better gift to give then a Christmas
vacation. While it's been hard to travel these past two years, everyone is itching to go somewhere. No matter what destination it may be, there's nothing quite like seeing
the world!
STOCKING STUFFERS
A. Mane Magic Hair Fragrance ($18, eva-nyc.com). Light and sweet head notes, fresh floral heart notes, and a rich, warm base. Designed with your gorgeous locks in mind, this will leave your hair smelling fabulous from morning 'till night. Plus, it's perfect for all hair types! B. Limited Edition Tranquil Radiance Nutrient Mask ($60, loumbeauty.com). This soothing mask (with 50mg of whole plant extract), intensely re-nutrifies, re-balances and re-energizes skin, addressing signs of stress: dryness, dullness, redness, sensitivity, etc. C. Hot Chocolate Bombs provide the perfect addition to every stocking. In fact, uncommongoods.com has fine Belgian chocolate bombs – handcrafted. As the truffle-like orbs dissolve, they release delectable drinkable contents; just drop one in a mug, pour hot milk and watch as it gradually melts! ($28) D. You shouldn't travel this holiday season without nativecos.com limited edition deodorant. Available in mini size ($3) or regular ($12), their scents of the season include: Candy Cane, Sugar Cookie and Fresh Mistletoe. E. The Pursoma Herbal Tea Wellness Set (6-Pack, $14) by Seyhart (a CA based wellness sanctuary), are fresh and delicious. Included in the pack of sustainably-sourced teas are: Lavender Mint (2), Banana Chamomile (2), and Turmeric Ginger (2). seyhart.com F. The Invigorate Shower Steamers Gift Set allows you to indulge in a steamy shower with energizing essential oil aromatherapy. These oil cubes in earthy, woodsy scents (cedar orange and pine), makes a luxurious, energizing gift for anyone who thinks bath time should be a ritual, not a routine. uncommongoods.com (set of 5 $28, set of 10 $50)