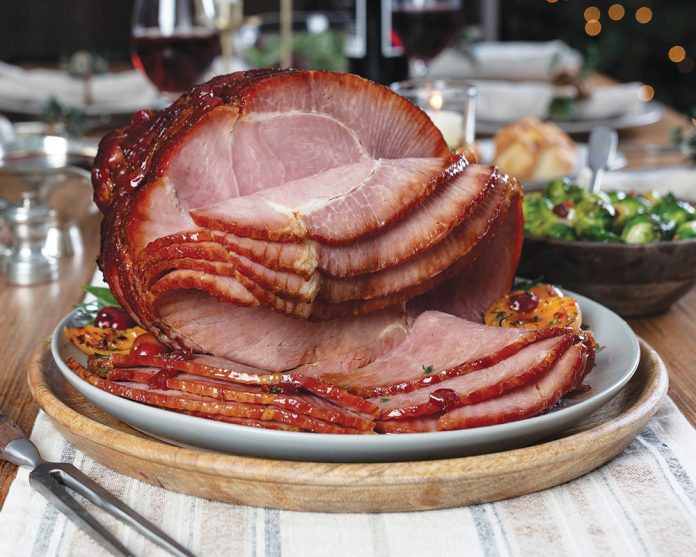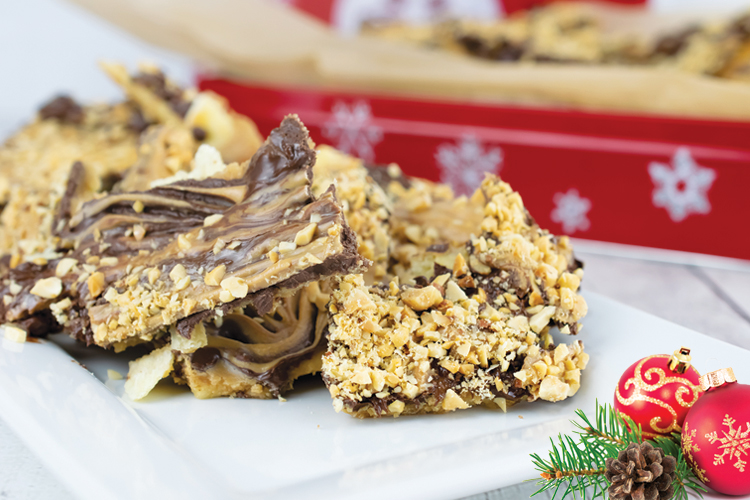 Recipe courtesy of Omaha Steaks Executive Chef David Rose
Prep time: 30 minutes Cook time: 80 minutes Servings: 10-12
Ham:
1 Omaha Steaks Spiral-Sliced Ham (8 pounds)
Glaze:
1 cup cherry fruit spread
3/4 cup dark spiced rum
3/4 cup cola
2 teaspoons Worcestershire sauce
1 tablespoon Dijon mustard
1/4 teaspoon kosher salt
To make ham: Thaw frozen ham in refrigerator 24-48 hours.
Remove from refrigerator and let ham come to room temperature, about 30-45 minutes.
Preheat oven to 325° F. Remove ham from foil and film. Return ham to foil wrapping and place in oven-safe roasting pan. Roll foil down leaving 2 inches of foil around bottom of ham. Place roasting pan with ham in oven on lower rack and heat uncovered 60-75 minutes, until ham starts to brown. While ham cooks, make glaze.
To make glaze: In medium saucepot, whisk fruit spread, rum, cola, Worcestershire sauce, Dijon mustard and salt until well incorporated. Bring to boil then reduce heat to medium. Simmer over medium heat 10 minutes then remove from heat. Cool to room temperature.
During last 15 minutes of cooking, glaze ham every 5 minutes.
#15913 Source: Omaha Steaks, Family Features
Peanut Butter Saltine Candy Yield: 45 pieces
Nonstick cooking spray (butter flavor)
1 sleeve (4 ounces) regular
saltine crackers
1/2 cup butter
3/4 cup creamy peanut butter
1 cup granulated sugar
2 cups milk chocolate chips
1/2 cup peanut butter chips
1/2 cup rough chopped, dry
roasted peanuts
Preheat oven to 400° F. Line 10-by-15-by-1-inch pan with aluminum foil. Spray foil with nonstick cooking spray then lay saltines flat in single layer on prepared pan. Set aside.
In heavy duty, 1-quart saucepan over medium heat, combine butter, peanut butter and sugar. Stir constantly until butter and sugar are melted, bringing mixture to boil. Boil 3 minutes, stirring frequently. Pour cooked mixture over saltines and bake 5 minutes.
Remove from oven and sprinkle chocolate chips over saltines. Let cool 3 minutes then spread melted chocolate completely over saltines.
Sprinkle peanut butter chips evenly over chocolate. Return pan to oven 1 minute to soften chips. Pull pointed tines of fork through softened peanut butter chips to partially cover chocolate. Sprinkle chopped peanuts on top, gently pressing into candy.
Let cool on rack about 15 minutes then place in freezer 3 minutes. Remove from freezer and break into pieces. Store in airtight container.
#15914 Source: Georgia Peanut Commission