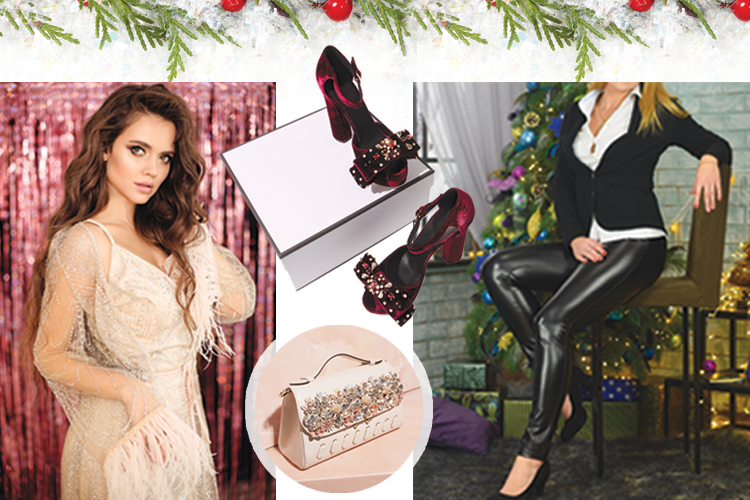 While people throughout the country are beginning to move about their daily lives once again, things are certainly far from 'back to normal'. We are inching our way back to activities and occasions of all kinds. As we move into the holiday season, some will be planning traditional festivities while others will be planning for the merriment to take place right at home. How does this impact holiday fashion trends for this transitional year? Let's look at the options at our fingertips.
Holiday-wear is known for its sparkle …its celebratory flare. For those getting ready to head out for holiday parties, you will be thrilled to see slip dresses with sequins, pearls, or feathered trim. Earrings, purses, and pumps are being shown with similar embellishments; while any one can easily add pop to your ensemble, don't go overboard. For example, if your dress is edged with feathered trim, avoid accessories with the same. It will overwhelm the look and diminish the effect. The same holds true for sequins and pearls. Choose one for your statement piece and let the rest of your ensemble serve to round out your look.
If you are a fan of leather, you will find plenty to choose from. Whether your preference is pants, dress, or jacket, leather is a top choice this season – in traditional black and brown, along with several other color options.
Corsets are another holiday trend being shown by many of today's top designers. Corset dresses and tops are available, which can be paired with skirts or trousers. You'll find them in leather, lace, sheers, and a whole host of fabrics choose from.
Heading to a small home gathering? Your top choices are patterned fancy trousers with one of the many soft, fluffy sweaters being shown. Try a wider leg option in a shimmery fabric with a sweater that fits close at the waist for a stylish, elegant look that is perfectly comfortable. Not a fan of sweaters? Lavish blouses in silks and other rich fabrics are readily available. Rather than a high heeled option, pair your outfit with plush, soft shoes that have all the comfort of your favorite slippers.
If staying in is your plan, you'll be happy to know that designers have you covered. Cozy and fabulous is the theme that runs through the options you'll find. Try a 2-piece knit ensemble that will look charming and feel so soft on your skin. Perhaps you'd prefer a pair of swanky pajamas in silk, satin, or with an oh-so-soft faux fur edging. Holiday themed patterns abound, giving you endless choices for the perfect pair of pjs.
No matter what look you're going for, you'll find plenty of red, black, winter white, purple, and, of course, silver and gold. Whether your holidays will be spent out and about, at a small gathering, or staying in and snuggling up, think glitz, glam, and cozy for the perfect find.