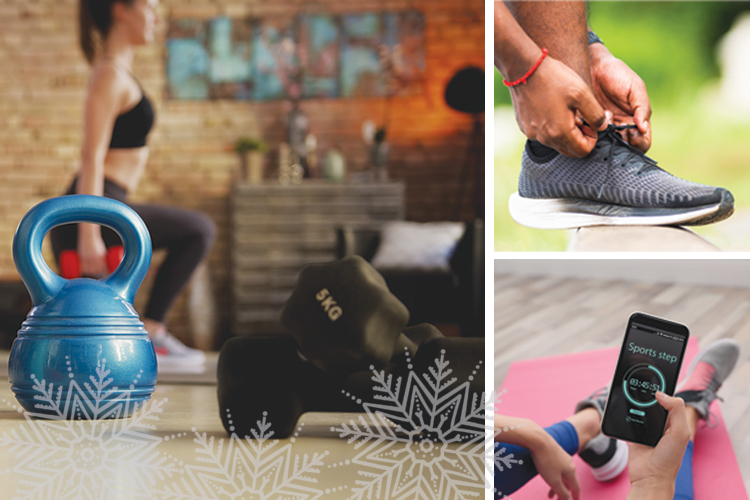 Let's face it, when it's cold and dark outside it can be difficult leaving the comfort of your home, especially for an activity like going to the gym. Winter has a way of sucking the motivation right out of us, which can impact our health and body goals.
Just because the weather keeps us inside, doesn't mean you have to skip a workout; you can get a killer workout without leaving the house. Expensive equipment is not necessary, although there are a few tools that will help make a successful home workout. Lose the excuses (and the weight) this winter with my top five tools for an ultimate home workout.
1 – Kettlebells. With just one kettlebell you can work your entire body. You can burn fat, build muscle, target specific areas, and work up a sweat to brag about. A kettlebell workout will also improve aerobic capacity, increase strength, build explosive power, and even improve balance. An adjustable kettlebell is a great option, it takes up hardly any space and you can increase intensity. You can go with an affordable Amazon find or the Bowflex kettlebell- which ranges from 8-40 lbs.
2 – Jump rope. A jump rope will take the place of your gym's cardio machine. That's right, jumping rope burns a ton of calories, increases the heart rate, and assists with hand-eye coordination. And, no need to jump rope for 20 minutes; you can jump for 30 seconds (at a moderate pace), or 20 seconds (fast paced), followed by a 30 second rest. Repeat for 10-12 minutes.
3 – Ankle Weights. One of my favorite tools for a lower body burn. Adding ankle weights to exercises like leg lifts, kickbacks, donkey kicks, step-ups, and V-ups, will give you a burn beyond your imagination. Portable, small and inexpensive, ankle weights are a must for targeting the legs, glutes, and core.
4 – Sneakers. On sunny days, when the weather is not as brutal, an outdoor jog in the fresh air may be exactly what you need. Whether jogging, walking, jumping, or strength training, ankle and foot stability are crucial. I like the Alphatorsion 2.0 Adidas. Made with engineered mesh, it hugs the foot securely, yet is breathable and flexible. The rubber sole has a grood grip and offers a springy bounce, making it a great running shoe. You may not choose this sneaker for lifting in the gym, however, it's a great, affordable, and even stylish choice for home workouts.
5 – An exercise app. Free, inexpensive or pricey, there are tons of workout apps available. When you get bored or need a more intense challenge, these apps are essential. You'll learn new exercises, be guided through a HIIT or strength training workout, and so much more. Pick one or ten!