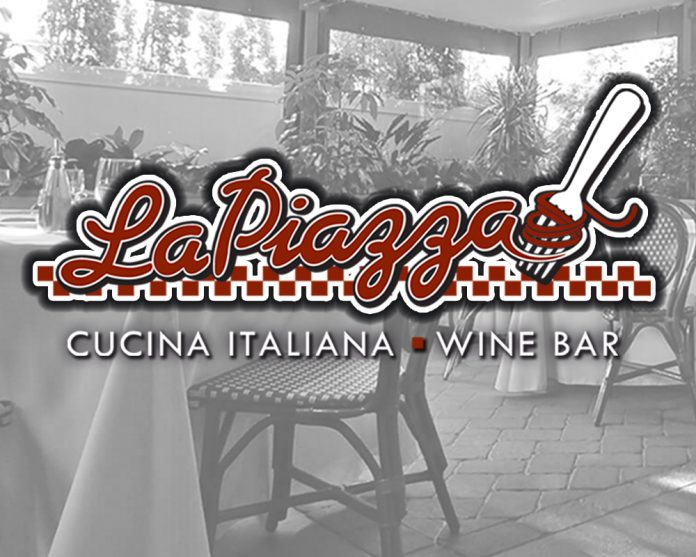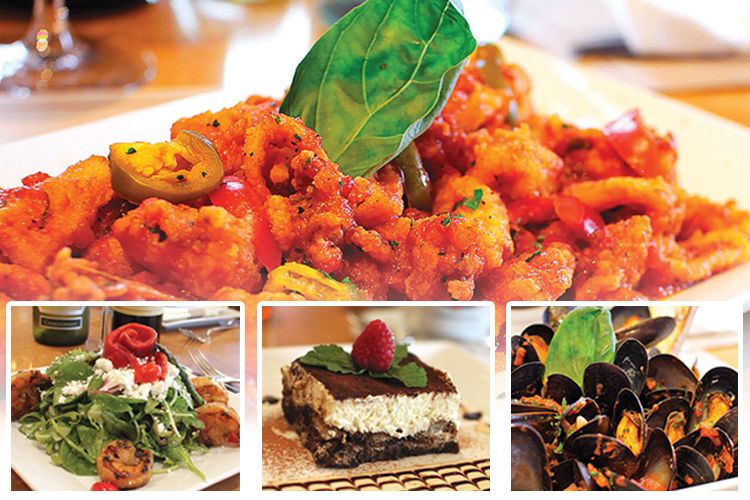 by Marc Piperno
As someone that frequents La Piazza countless times over the last 20 years, I can confidently say, that I did not have to make a special trip to create an accurate food review.
Consistency is what has made them who they are and for me, this is key. From the simplest of dishes to the complex, preparation and presentation is always the same and that's a good thing.
The dining room is warm and inviting with booths that line its perimeter. Plenty of nooks, which is kind of nice, especially when you are looking for a more intimate setting. I've had just about everything on the menu, but I will limit this review to my absolute favorites.
---
CALAMARI ARRABBIATA delicious morsels of calamari are amidst flame roasted peppers, in a spicy Arrabbiata sauce.  An addiction I can not control.
EGGPLANT MEATBALLS you'd never know unless I told you, but these homemade creations of eggplant in a tomato basil sauce, pecorino cheese with fresh whipped ricotta taste just like beef.  They are my guiltless pleasure. Fantastico!
LEMON SOLE MEUNIERE a Pan-seared Lemon Sole, with capers and asparagus in a white wine and lemon Beurre Blanc sauce. It's my favorite seafood dish. Complimented with rice pilaf makes for an elegant presentation that is both delicate, and full of flavor. Delicious!
CHICKEN CHOP PARMIGIANA an encrusted parmesan cheese and french boned chicken breast is then pan fried, then baked with mozzarella in an "Old World" Italian tomato sauce. Served with a side of penne makes for a generous portion. Just like Nonna used to make.
---
If you know anything about beef, then you must try their BISTRO BURGER; a Pat Lafrieda 8oz patty, aged Wisconsin cheddar,  Applewood bacon, shredded lettuce, beefsteak tomatoes, red onion on a brioche bun stands up to the best specialty burger joints I've ever been to.
As these are just a few of my besties to consider, from apps to dessert you will not be disappointed.
There is a private party room that accommodates up to 50 people. With party season on the horizon, now would be a good time to plan ahead and make those inquiries. Customize a special party menu to suit. Their professional catering staff will help you plan your event from start to finish. If you are having  a special occasion at home, let La Piazza handle all the details. Their off premises catering menu will deliver the same consistent quality you've come to expect.
La Piazza's Pronto menu for Take-Out and Delivery offers even more options. At first glance, you wouldn't think pizza at La Piazza. Think again. Their brick oven artisanal pies are sensational, including their gluten free and cauliflower pies.
After a tough day at work, stop by Monday though Friday between 4:30 and 7:00 for their popular happy hour. Beer, wine and cocktails are discounted, with apps at 1/2 price. Monday's, come in for dinner and get bottles of wine at 1/2 price on purchases of $50 all day.
La Piazza of Melville is the embodiment of the finest ingredients, skillfully prepared and delivered by a staff that exemplifies a passion that comes through with every meal they present.
---
512 Walt Whitman Rd., Melville
631.425.0500
LaPiazzaOnline.com/Melville
---