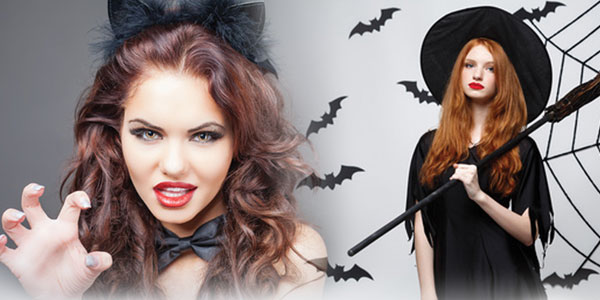 Rachael Severino is an incoming high school senior at Sachem North High School in Sachem School District. This aspiring writer has a knack for the written word. She has penned short stories, poetry and is developing an impressive body of work.

October is a magical month. Every October 31st, skeletons, witches, and zombies emerge and scavenge for candy. Dramatic makeup and whimsical costumes whip up an elated joy that seeps into the air every single year.
Sometimes, life gets in the way; you are too busy that you do not notice the days flying off the calendar.
Halloween does not have to be any less magical just because you forgot about the 31st.
First, ambiance; dress up your house and surround yourself in the spooky spirit.
If you have pumpkins, carve out large round rectangles at the bottom and stick in vampire teeth. Blood-sucking drac-o'-lanterns are simple and cute. They will look lovely next to mums on anyone's porch.
Black construction paper and some scissors will create some
resting bats. You can glue the bats to string and hang them up outside your house to transform your home into a bat cave. The sleeping bats with the drac-o'-lanterns will make you and
trick-or-treaters feel like they are
inside the story of Dracula.
Old perfume bottles or cheap plastic vases filled with colored water will look like something out of Doctor Jekyll and Mr. Hyde's laboratory. A drop of yellow dye into some water with flower pods, seeds, and plastic rings in one bottle will look perfectly creepy on your windowsill.
Next, dress yourself up in a bewitching costume.
A simple black dress with combat or even rain boots will lay down the foundation for this costume. A hat is of course a must, and most
Halloween or costume stores will sell one up to and past the 31st.
Garish costume rings on several fingers, black, lace, or fishnet tights, and even a broom will spice up your costume.
I can vouch for this next costume, as this is exactly what I did two years ago. With the same foundations of the last costume, you can create a quick and easy cat costume. Cat ears are sold everywhere from Forever 21 to the dollar store, ensuring you can find whatever style you would like.
A faux fur vest would really sell the kitty look, along with solid black tights. Paint on a pink noise and thin black whiskers and you are purrfect!
If you want a more stylish cat
costume, you can wear a leopard print dress with a pair of cat ears.
Anyone can dress up as a member of the Addams family with stylish black and a haughty attitude.
The finishing touches for any look is the makeup. Men and women alike should decorate their skin with elaborate glitter and eye looks. YouTube is brimming with various tutorials of dramatic makeup looks, many tailored specifically for
Halloween. Whichever you choose, add glitter. There is no time like
Halloween to wear excessive glitter.
Halloween is a thrilling time for everyone who participates in the candy mongering. Even if you forgot about the 31st, you can still dress up in glamour and get sweets!