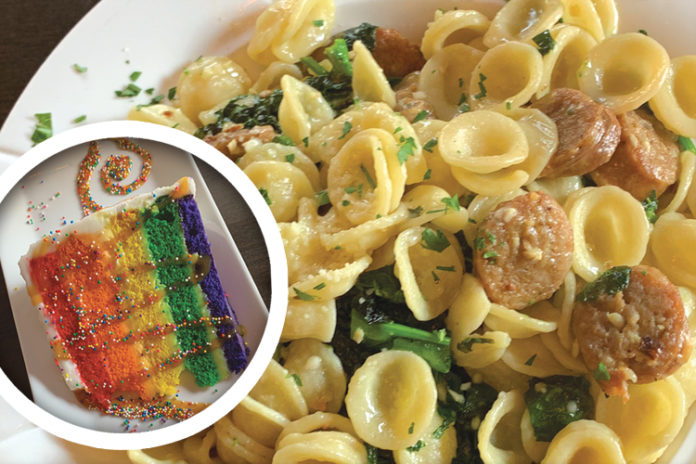 Ever been overwhelmed by the variety of offerings on a restaurant's menu? Well then, get ready to experience Legends Bar and Grill of Kings Park, which has quickly become a neighborhood favorite.
As owner, Mark explains, "The goal was to open a place where everyone can have fun." With an innovative menu and a staff who loves what they do, it has become a winning combination for this trendy eatery. Whether you want to stop by for a quick drink and snack or a full meal, Legends Bar and Grill has become the go-to place for watching the games, hanging with friends, or even family gatherings. Mark continues, "Our goal has always been to make our restaurant a welcoming and enjoyable place for the entire family (yes, children too), and that's exactly what keeps our customers coming back."
At Legends Bar and Grill, there is always something going on. From Happy Hour Monday-Friday, live music on the weekends to daily specials, the staff at Legends is eager to please. Stop in on Monday for their burger and sandwich night, Taco Tuesday, Wing Wednesday or Appetizer Thursday, (buy one app get one free).
On my latest visit to Legends, I wanted to try a variety of appetizers and entrees that covered a broad spectrum of flavor profiles. The Buffalo Chicken Mac & Cheese starter was incredible! The crispy chicken tenders tossed in buffalo sauce were insane. Then came the "Fresh Mozzarella," panko crusted and fried in a marinara and vodka sauce. Bet you cannot eat just one! From their special's menu, we ordered Crispy Chicken Egg Rolls – stuffed with cheese, bacon, pasta, and cilantro, served over Legend's signature sauce. OMG, simply addictive.
You would never think of ordering pasta at a gastropub. However, Legend's Signature Orecchiette (Italian sausage, broccoli rabe and orecchiette, served with EVOO), was old world authentic and savory. Next on deck was the Breakfast Burger. Why not go all the way I say! A sizeable burger prepared with cheddar, bacon, and yes, a sunny side up egg, along with fresh-cut fries – cooked to a perfect medium. Absolutely delicious.
Once learning from the server about their most popular Rainbow Cake, we could not resist the temptation. Dense, moist, and colorful, this beautifully presented cake delivered on the promise of popularity. Bountiful portions, beautifully displayed and packed with flavor, and a limitless menu makes Legends all that legendary.
Legends Bar & Gill
34 Indian Head Rd, Kings Park
631.663.3419
Restaurant | Legends Bar & Grill of Kings Park | United States (legendsbarandgrillkp.com)