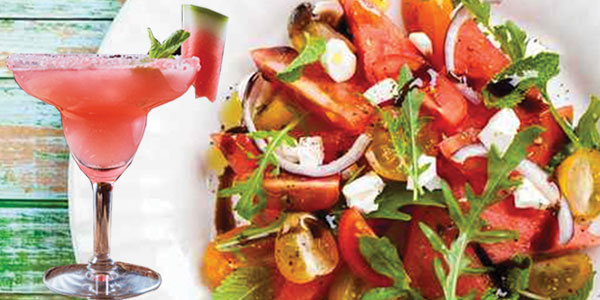 Arianna Johnson has A Bachelors
Degree in English/Creative Writing from Dowling College. She is very passionate about writing and cooking and her goal is to become a food writer and cookbook author. Arianna can be reached at
arianna.ruth.johnson@gmail.com

I was listening to the radio the other day and the hosts were discussing how people are just happier in the summer. One host said, maybe it's the good memories you have from your childhood of having all summer off. Or it could just be the warmer weather and longer days… Either way, it's no secret I love certainly summer and there are definitely things that I crave during this time of year. This summer season my favorites are watermelon, pasta dishes with seasonal veggies and, my beverage of choice: rosé.
I know everyone loves watermelon in the summer, but there's a lot more you can do with it than just cutting it up and eating it. One of my favorite ways to eat watermelon is in a salad with a hard, salty cheese. There are two different versions of a watermelon salad that I make. One is with feta and torn mint leaves with extra virgin olive oil and sea salt. The other is with ricotta salata, baby arugula and balsamic drizzle, which is essentially just balsamic vinegar reduced on the stove until it is syrup-like. Each of these is a perfect starter or light side dish to accompany a barbecue or an al fresco dinner.
I must confess that I also love my watermelon in a good cocktail. It is really easy to get watermelon juice to make cocktails. All you have to do is cut it up into cubes, liquefy it in a blender and strain it through a sieve. You can make shaken watermelon margaritas or watermelon martinis. If you don't want to take out the blender, watermelon mojitos are even easier because you just mash up watermelon cubes with mint and lime then add white rum and seltzer.
Something else I am loving this summer is making pasta dishes that can be eaten hot or cold. I like being able to make a hot pasta dish for dinner that can then be eaten cold for lunch the next day. I'm also a fan of not having to turn on the oven when it's ninety degrees and humid outside; it's really a win, win all the way around. A couple of my favorites are "caprese" with pesto and penne and spaghetti with corn, cherry tomatoes, and avocado pesto. For the caprese I use cherry tomatoes and the small mozzarella balls, and store-bought pesto, if I can find it. Otherwise I make it from scratch. For the other, the avocado pesto is just as easy to make. A regular basil pesto, but you just add an avocado and omit the pine nuts.
The last, and certainly not least, summer favorite of mine is rosé wine. Rosé used to be this cliché of a wine, kind of like Zinfandel, if you will. But now it is the wine of the summer! It's not hard to fine a reasonably priced rosé in the liquor store. I'm an advocate for buying local, so I go for the Long Island rosés, but the French rosés aren't too shabby either. So, maybe next weekend, cut up some watermelon, boil up some pasta and drink a little rosé.