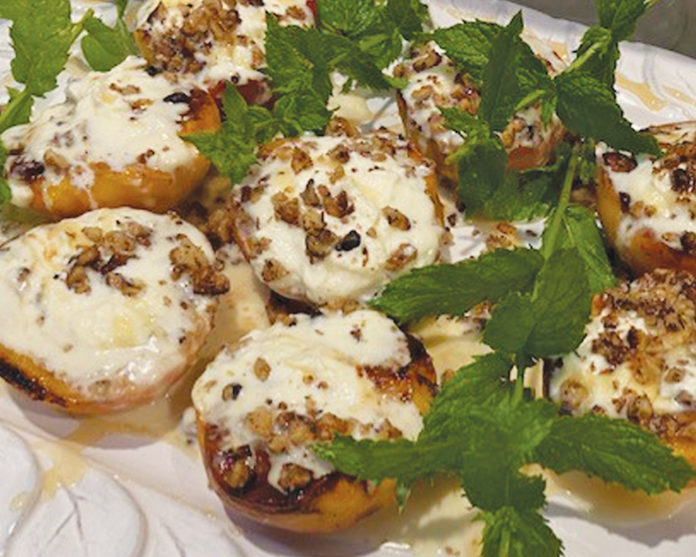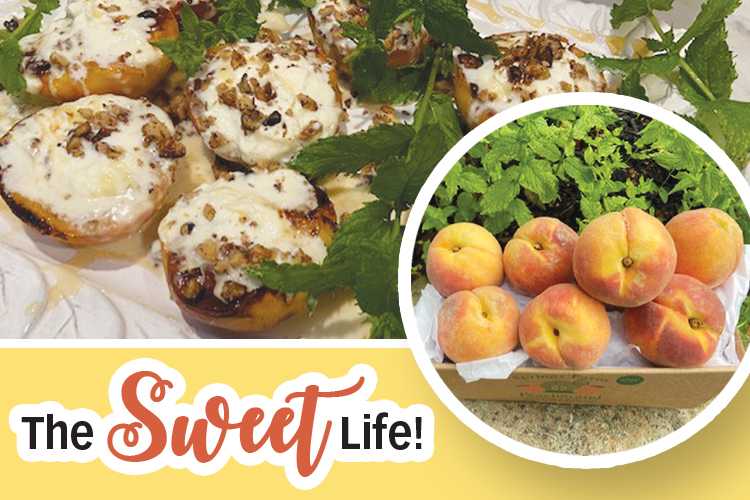 It's summer so keep your dessert simple and sweet!  There's truly nothing as easy and delicious as grilled peaches and cream. I just returned from a visit to South Carolina where the peach stands were abundant and the peaches were heavy, ripe and oh-so-sweet!
Upon returning back to N.Y., I purchased a container to tuck away freshly picked peaches into my suitcase; I flew home with that sweet summer fragrance bursting through my bag. The airline attendants simply smiled as the aroma breezed by them. I just love that sweet southern hospitality … it's entirely "peachy".
Whether at home or visiting, summer means easy living, cooking and grilling along with dining outdoors with friends and family. Diversify your grilling and experiment with fresh fruits as they make for the perfect dessert or side dish. The heat of the grill intensifies the natural sugars in most fruit, softening its peachy flesh and caramelizing it into sheer sweetness.
The creamy mascarpone (soft Italian cream cheese but sweeter) topping, is used instead of whipped cream, providing a rich and creamy indulgent element.  Combine the welcomed crunch of toasted walnuts and a drizzle of honey, served with fresh mint from your own garden and it's tantalizing! Grill em' before they're GONE!   As you can tell, I'm "keen" on peaches.  xoxo, Denise
4 medium – large ripe peaches (halved and pitted)

2/3 cup walnuts
1 tsp. vegetable oil
1 cup mascarpone cheese beaten with a fork adding 3T of ½ & ½
¼ cup honey
8 fresh mint sprigs
2T butter, melted with a sprinkle of sugar and cinnamon
Preheat grill to medium-high heat. Clean and lightly oil the grill. Mix the mascarpone cheese in a bowl and fork beat with the ½ & ½ until smooth. In frying pan, add a touch of butter and toast the walnuts; then break into pieces. Brush each peach halve with melted butter and sugar mixture, then grill peaches cut side down for 4-5 minutes. Flip with tongs and grill for 2 more minutes or until peaches are tender. Place onto a platter. Fill with cream mixture and drizzle with toasted walnuts, honey and garnish with fresh mint. ENJOY!