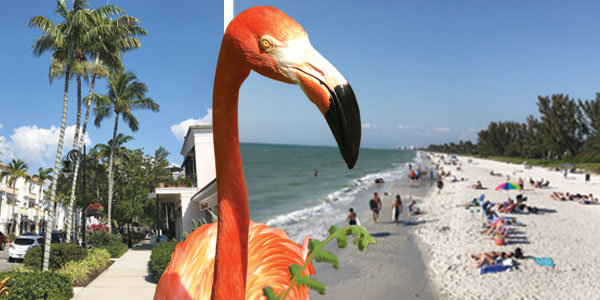 Claudia Fenner is a writer, photographer and travel enthusiast from Dix Hills. Have any travel questions you would like answered? Email her at travelingclaudia@gmail.com.
Happy Travels!

"My parents didn't want to move to Florida, but they turned sixty and that's the law." Jerry Seinfeld.

I have always heard fantastic things about Naples, Florida and now I know why. We visited there for a few days in March, and it was a wonderful respite from the hustle and bustle of the Miami/Fort Lauderdale area.
Naples is on the Gulf Coast of Florida about 110 miles due west of Fort Lauderdale. It was a super easy 1.5-hour drive on Interstate 75 from FLL. Add a half hour to that if you fly into MIA. The closest airport is Fort Meyers (RSW), which is only 36 miles north of Naples. Check the fares and decide which is the best for you.
Hotels in Naples were a bit pricier than other cities in South Florida. We chose the Hampton Inn Central and were happy with the location and accommodations. The hotel is located on the main thoroughfare of town, named Tamiami Trail. In 1915, plans were made for a road to connect Tampa to Miami, hence the name TA-MIAMI. Interesting!
Downtown Naples is centered on 5th Avenue South. It's a gorgeous area that hosts lovely shops, tons of outdoor cafes and restaurants. Also, there is ample free parking which adds to the ease of enjoying this beautiful part of the city.
A short drive away is the Naples Pier. Originally built in 1888 as a freight and passenger dock, it continues to be a community landmark. The sand at the beach there is like talcum powder… so fine and white. It's the perfect place to view the beautiful Gulf of Mexico, as well as the amazing sunsets.
We also had the most delicious dinner at Swan River Seafood Restaurant. The stone crab season runs from October to May, so we were in luck. The stone crabs, as well as the chowder were truly memorable.
On our way back to Fort Lauderdale, our daughter suggested stopping at Flamingo Gardens. Located in Davie, it's a not-for-profit botanical garden and wildlife sanctuary. Included in the price of admission: a relaxing 40-minute tram ride with fascinating commentary about their extensive collection of native plants and animals. They say it's "Florida as it used to be."
If you are looking for a relaxed version of South Florida, then do take notice of Naples… it's a nifty trip!