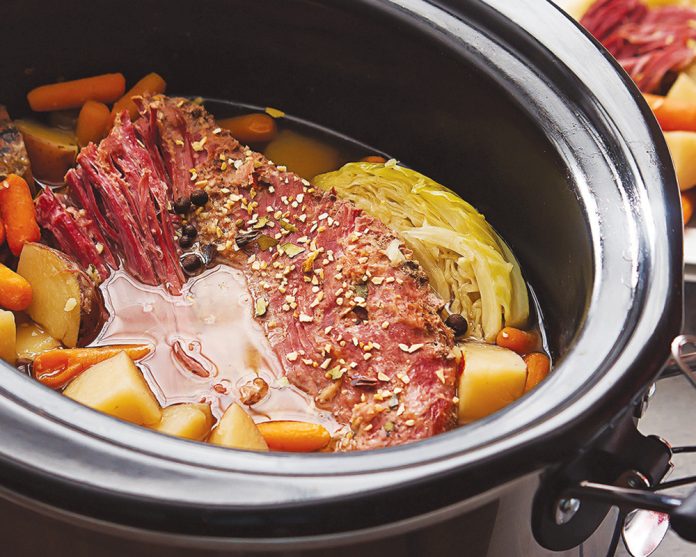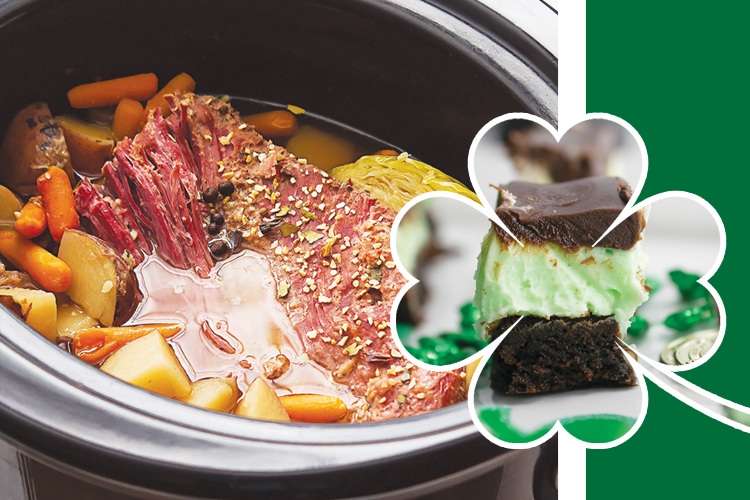 ---
---
SLOW COOKER CORNED BEEF & CABBAGE
Prep time: 10 minutes  ~  Cook time: 8 hours  ~  Servings: 12

(Family Features) #12548  Source:  McCormick & Company, Inc. 
1

 

small onion, quartered

1

 

corned beef brisket (4 pounds), rinsed and trimmed

2

 

tablespoons McCormick Mixed Pickling Spice

1

 

teaspoon McCormick Minced Garlic

1/2

 

head cabbage, cored and cut into wedges
Place potatoes, carrots and onion in slow cooker. Place corned beef brisket over vegetables. Sprinkle with pickling spice and minced garlic. Add enough water (about 8 cups) to just cover meat. Cover. Cook 7 hours on high. Add cabbage. Cover. Cook 1–2 hours on high or until cabbage is tender-crisp.
Remove corned beef brisket to serving platter. Slice thinly across grain. Serve with vegetables.
TIP : For best results, do not remove cover while cooking in slow cooker.
---
---
---
LUCKY MINT BROWNIES
Servings: 9-12

(Family Features)  #15603  ~  Source: Culinary.net
Nonstick cooking spray
1 box supreme brownie mix with chocolate syrup pouch

 

3

 

tablespoons water
1/3 cup vegetable oil

 

1 egg

 
FILLING:
3 1/2 cups powdered sugar
1/4 cup butter, softened
1/4 cup whipping cream
5 ounces cream cheese, softened
1/2 teaspoon peppermint extract
5 drops green food color
TOPPING :
1/2 cup whipping cream

1 bag (12 ounces) chocolate chips

1/2 cup butter
Heat oven to 350° F. Spray 8-by-8-inch pan with nonstick cooking spray. 
In large bowl, mix brownie mix, water, oil and egg until combined. Pour into prepared baking pan. Bake 35 minutes. Cool completely, about 1 hour.
TO MAKE FILLING : In large bowl, beat powdered sugar, butter, whipping cream, cream cheese, peppermint extract and food coloring. Spread over cooled brownies. Refrigerate 1 hour, or until set.
TO MAKE TOPPING : In saucepan, melt whipping cream, chocolate chips and butter until smooth. Cool until lukewarm, about 10 minutes. Pour over filling; spread to cover. Refrigerate 2 hours, or until set.
Before serving, let brownies set 10 minutes at room temperature. 
TIPS : Cut brownies with wet knife for cleaner cuts. Store covered in refrigerator.
---
---