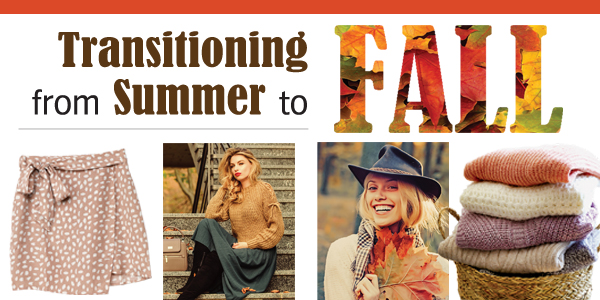 Jennifer is an Account Manager at a beauty public relations agency in New York City, from Long Island. She has a bachelor of arts in communications and marketing from SUNY Cortland and is interested in all things travel and beauty. Jen can be reached by email at jennifer.mcnicholl5@gmail.com!

­ Before you know it, the fall season will be upon us, so make sure you're not taking any sunny days for granted beyond this point. With only a few weeks left, we'll officially be trading in our swimsuits for pants and sweaters. No need to worry though, since the 2020 fall fashion trends are fun and easy to wear … that's something to look forward to!
We've actually seen the fall/winter 2020 fashion trends emerge during fashion week last February; although they're finally appearing in stores now and we can shop them for ourselves! Good news is, there's no need to put away your entire summer wardrobe just yet, since some of the fall trends are allowing us to hold onto our warm-weather essentials.
So, are you ready to switch things up a bit? Below are a few examples of some of my favorite looks to go after, once the weather cools down!
The floral mesh puff sleeve camisole top from Boohoo ($16, Boohoo.com) is a perfect statement top which pairs nicely with jeans, skirts or shorts!
If you're not ready to put away your sandals, you can style them with a jumpsuit! The washed effect jumpsuit from Zara's TRF section – aimed towards the younger customer ($35.90, Zara.com) can be worn alone or paired with a jacket on a
chilly day.
Looking to create a fun fall look? The beige print asymmetrical faux wrap mini skirt ($62, lulus.com) goes great with a long sleeve top and booties. It's made of a lightweight woven fabric and even comes with a tying sash belt for a full on fashion statement.
Swap out your plain jeans for a deconstructed pair! The agolde crisscross upsized jeans ($218, shopbop.com) provide a cute
(but not overly dramatic) change to your wardrobe. They also add some hip to whichever sweater or t-shirt you pair with it!
In the early weeks of the fall season, the last thing you'll need is a light blazer to keep you warm on the way to/from work. The easy, relaxed blazer in textured jersey ($48, asos.com) works well with either a pair of jeans or a skirt!