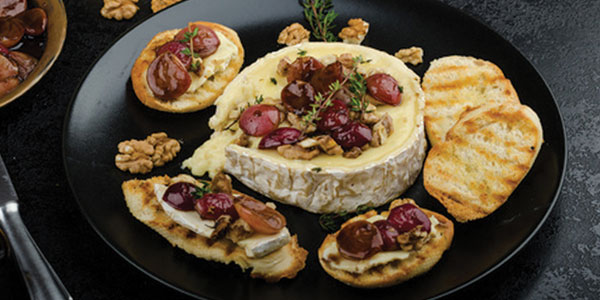 Meghan Parisi is a Kings Park resident and freelance writer. She is the Managing Editor for a design publication that covers homes in NYC, the Hamptons, San Francisco and Connecticut. Meghan loves to cook and entertain as much as possible and loves sharing her kitchen tips and tricks on her blog: Whiskey + Aprons. Contact Meghan with any questions at meghan.parisi@gmail.com.

The holidays are my favorite time of year. Family and friends come together and everyone shares in the joyous spirit of the season. One of my favorite ways to share in all of the excitement is to spend time in the kitchen with a nice glass of red and a new cookbook. Nothing is more satisfying and giving than filling the bellies of your loved ones with food cooked from the heart. My husband and I split our time between our families during the holidays, which typically means deciding on what to contribute to holiday dinners each year. We recently bought a home with a dining room that offers lots of space for entertaining; it truly is our favorite pastime.

Our get-togethers usually include wine and cheese and signature cocktails paired with delicious hor d'oeuvres. Friends and family love gathering at our home and we enjoy sharing time with them over tasty eats and drinks. My favorite appetizer to bring to gatherings is my signature baked Brie. It starts to make its appearance around Thanksgiving and then straight into the holidays. It's a great dish to display on your cheery table scape and have guest gather around while catching up and diving into. It's a staple in our family and every year I am requested to make it. What I love most is that you can add anything you like to it. From sweet fruit preserves and hardy nuts to more savory ingredients like caramelized onions and fresh herbs. Here is what you will need to prepare your baked Brie.

Preheat your oven on bake to 350 degrees. Take 1 large wheel of soft Brie cheese and place on top of two rolled out sheets of Pilsbury crescent dough. I like using the crescent dough because its already pre greased for you. Evenly spread ½ cup of apricot preserve onto the top of your cheese. Then sprinkle 1 tablespoon of brown sugar and for some added bite I like to add 1/8 cup of slivered almonds. Fold all four sides of your dough to meet at the top and softly pinch together to mend shut. Place on an ungreased baking sheet. Feel free to get creative by using any extra dough to create decorative leaves or designs to bake into the top of your Brie. Lightly brush with melted butter and bake for 7-10 minutes or until the top of your dough is golden and your cheese begins to ooze from the bottom of your baking sheet. I like to place my baked Brie on a decorative serving platter for some added décor. Serve with your favorite sliced fruits, crackers or sliced baguette.

I hope you enjoy this recipe and share it with your guests this holiday season. Until next time!