O Sole Mio
2194C Nesconset Highway
Stony Brook, 11790
W: http://www.osolemiostonybrook.com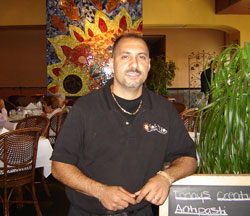 There are so many places to choose from when deciding to dine out or order in.  So many restaurants have come and gone much like the changing movies on the marquee. There has been a void in Stony Brook for many years in the Waldbaums' Shopping Center on Route 347. Many restaurants have tried to make it at the end unit of the shopping center across from the movie house, but to no avail. That is, until O Sole Mio came to town. Now you have to wait on line to get in, but it is certainly worth the time.
Joining with a group of partners that have been owners of four other very successful restaurants on Long Island, La Scala, Olio's, Buona Sera, and Café Amici. O Sole Mio brings to Stony Brook and the surrounding communities, all the delicious old world goodness that has made the afore mentioned locations synonymous with great food and service.
Victor worked as a manager for the La Scala group of partners for many years and decided to open O Sole Mio as an owner/ partner in April of 2003. "Being a part of this group of successful restaurant owners has been a great experience for me. I was able to combine all of my knowledge and background in the food business and become a restaurant owner," states Victor proudly. O Sole Mio quickly became a place to go for great food and fabulous, friendly service once the word got around. "It's amazing how fast we took off, we have so many wonderful regular customers and I see new faces every day," Victor says.
If you haven't tried this place, then you are truly missing out on a wonderful dining experience. Before you enter through the front doors, you will see café tables surrounding a covered terrace for fair weather, al fresco dining. As you step inside you are welcomed with friendly smiles from the staff at the traditional pizzeria counter filled with an assortment of gourmet pizza, stuffed breads, panini's and homemade desserts. If you would rather sit down and enjoy a complete lunch or dinner, there is a full service restaurant in the back where a hostess will seat you.  Decorated with a European flair, wine and Pellegrino water bottles collect on shelves, softly lit sconces compliment the walls, table-clothed tables are centered around an impressive floor-to-ceiling Italian mosaic tile work of art. Relaxed and stylishly casual is the atmosphere at O Sole Mio.
"Freshness is our motto around here. We make sure everything is prepared by our authentic Sicilian chef using only the highest quality and freshest ingredients. There is definitely a difference that you can taste when fresh products are used in cooking.  Many of the dishes we serve are from mine and my wife's family recipes. We would never want to skimp or compromise the taste that took generations to perfect," assures Victor.
O Sole Mio is open for lunch and dinner daily. Stop in for a quick slice of traditional or gourmet pizza such as their incredible Grandpa's Sicilian which is a thick, crispy, generous square, topped with tomato sauce, cheese, onions, basil and pignolia nuts, a real treat. Appetizers can include a hot or cold antipasto served with a warm basket of assorted rolls and bruchetta, breads and garlic knots. The menu features a variety of chicken, steak, fish, veal and pasta entrees to please everyone dining in your party.  Hearty soups and colossal salads, can compliment any dinner or add chicken to any salad and create a light meal.  Leave room for dessert and enjoy the homemade Tiramitsu or Italian cheese cake, assorted pastries and more along with a cappuccino or cup of freshly brewed coffee or espresso. Let O Sole Mio cater your next event, no party is too big or too small.  Located at 2194C Nesconset Highway, (Rte. 347) in the Waldbaum's Shopping Center in Stony Brook. Call 751-1600 for more information, to order fabulous take-out, reservations on the weekend, or to speak to a party specialist. One visit will keep you coming back for many more Let the O Sole Mio family serve your family.