Maria's Mexican & Latin Cuisine
211 Smithtown Blvd.
Nesconset, 11767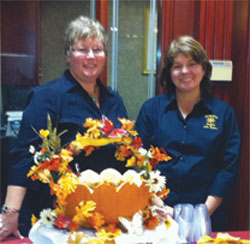 I am very proud to share with you one of the more enjoyable evenings I've had in a long time, at a restaurant, diners have come to know and love.
Now celebrating 20 years in Nesconset, Maria's Mexican and Latin Cuisine is a testament to how hard work translates into community support. Owner Mary Mones fell in love with the culture of Latin cuisine, dating back to 1981. Working her way up the ranks at various jobs and restaurants, Mary finally became the general manager of the once well-known Meson Olé. It was soon after in 2003 when Mary decided to take the leap of faith and follow her dreams by opening her own Latin style eatery.
Maria's Mexican and Latin Cuisine brings diversity and authenticity with an abundance of love in every dish she delivers. As Mary explains it, "This is not work, it's my passion to provide our customers with the best food and service they can get". It is a business philosophy that has made Maria's very popular and it shows. It is quite common to find Mary going table to table, checking in with her loyal patrons. Over my years in working with hundreds of restaurants, this is by far the most important aspect of the restaurant business.
Arriving at 6:30 on a Tuesday evening and to our surprise, the dining room was clamoring. Adding to the energy was authentic Mexican music, a sign of good things to come.
There were so many interesting appetizers to choose from, we could not help but to order more than we could handle. Gambas al Ajillo: five plump shrimp sautéed in a silky garlic sauce was accompanied by toasted bread. Perfect for dipping into the smooth garlicky elixir. So flavorful. Papas con Queso; Potato skin medallions stuffed with pieces of Spanish sausage, queso cheese served amongst sour cream laced with jalapeno. Bet you can't eat just one! Sopa de Frijoles Negros; A traditional Spanish black bean soup w/ tortilla strips. Ask for some chopped white onion and white rice on the side. It is not part of the menu, but trust me, it's delish!
For the entree I went for the dinner special. Seafood Fajitas; A medley of Mahi mahi, shrimp, scallop, a mound of fried calamari with sauteed veggies in a mango salsa was off the charts. I never had such a large portion of fajitas before. Served on the side were tortillas, rice, beans, guacamole and queso cheese. I think if Maria's made this a staple on the menu, it would be a big hit.
For the health conscious one out there, the Vegetable Fajitas is a wonderful option; A generous portion of freshly sautéed onions, broccoli, mushrooms, peppers, green beans and tomato. Served with the same accompaniments, my vegetarian soulmate was quite content.
Having all that delicious salty and savory food means it is time for dessert. Right off the menu, try the Helado Frito; A cookie crusted vanilla ice cream, deep fried and served in a chocolate tortilla shell. I mean, look at the photo in this write up. Need I say more? Incredible! On special tonight was the Sopapilla de Manzana; A flat and crisp tortilla with spiced honey drizzle, sweet caramelized apples, vanilla ice cream then finished with Dulce de Leche. A silky, sweet harmony of texture and perfection. Loved it.
Maria's menu is filled with an array of mouthwatering, locally sourced, fresh produce and delicious fresh meats and seafood. Gluten free options are also available. Specializing in Latin cuisine, with alluring Cuban and Mexican fare as well.
We spoke with Mary after our meal and asked her, what does she owe her incredible success to? She goes on to say, "in the simplest of terms, I attribute our success to consistency in our fresh products and exceptional service. This is a philosophy that I have instilled in my staff as well. No matter how successful you become in your life, never forget how you got started and always be grateful for what you have." For me, as a business owner myself, this is the kind of advice you can take to the bank.
     Olé to Mary and staff in celebration of Maria's Mexican and Latin Cuisine 20th Anniversary!