Alpha & Omega Heat & Air
PO Box 551
Greenlawn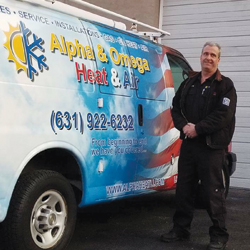 On a warm summer day, the last thing you want is for your central air to stop working. Same goes for those cold winter nights, when losing heat isn't just an inconvenience- but more a threat. At Alpha & Omega Heat & Air, they deal with all types of problems that might arise at home.
Whether it's a flood in your basement caused by an overflowing toilet or simply time for an upgrade, Alpha & Omega are the ones to call. If your boiler is about to bust or your furnace doesn't work like it used to- not to worry. At Alpha & Omega, they specialize in high efficiency oil and gas burners from all major manufacturers. In that case, they will come in, replace your furnace and recommend ways for you to lower your heating bills.
Michael Romano, founder of Alpha & Omega, wanted something that focused on customer service, responsiveness, and quality. Having worked fourteen years in the HVAC industry, he knew so much about it that a manufacturing representative suggested he open his own. Offering all major brands of heating and air conditioning units, Alpha & Omega has grown into one of the most successful businesses of its kind on Long Island.
For Alpha & Omega, what might seem like a homeowner's worst nightmare, is more often than not, an easy fix. Each of Romano's professionals average over a decade in HVAC experience, are knowledagble on the latest geothermal/inverter technology and have stellar client reviews. From beginning to end (sales, servicing, installation and repairs) they are experts at bringing new technology to older units without the high cost of replacement.
Since Alpha & Omega first started in January 2018, they've received multiple certificates of achievement from all the major manufacturers. On top of being fast, honest, and knowledgeable, Romano and his staff routinely go to training given by manufacturers or industry support companies. They are also members of the Dix Hills Evangelical church and actively involved within the community. As a Long Island Native, Romano loves the people and all NY has to offer. From Greenvale to Greenlawn, Stony Brook to Seaford, or Melville to Montauk, Alpha & Omega will have you covered. If it means helping you choose the best air conditioning/heating system or giving an estimate, the friendly staff is happy to help. And, if you don't spot one of the Alpha & Omega vans throughout Suffolk or Nassau county, you just might find Romano tooling around on his Goldwing bike.