East End Trees
168 Townline Road
Kings Park, 11754
W: http://www.eastendtrees.com/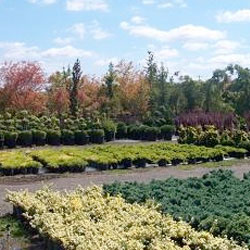 Trees and Plants aren't the only thing's growing with all this rain - so is East End Trees Nurseries. This community minded nursery has been able to ride the tough times and expand by offering great customer service and getting involved.
"Attractive prices and regular sales sure help but, people make a difference," says Louis Vincennie. Our nursery upholds the traditional belief that its personnel are the lifeblood of the company. We believe in taking time to listen to you, walk with you and show you the right plants for your needs. Nothing gives us greater pleasure than having a family come back and say how great their yard came out due to our help and guidance. We promise – come in anytime and see my partner Jim, Sharon, Michael or Lori and experience real customer service.
Our two acre nursery is 100% organic in that we only sell Organic fertilizers and soil amendments plus, our website is completely powered by wind. We are well-stocked with beautiful evergreen and deciduous trees, shrubs and perennials from award winning growers such as Monrovia and Prides Corner. People come from all over for our big mum sale that's going on now.
Who could say no to the boy scouts – not us. Besides sponsoring 5 little league teams and two of our local football teams – we found time to help troop 111 Nesconset build a bird sanctuary at the Smithtown Animal Shelter.  Bill Ciancarelli of troop 111 came up with the idea to attract birds in order to provide workers, visitors, and the cats in the cat pen with something to look at and enjoy. It is also being used as a sitting area with the fountain right in the middle. What a rewarding day to work along side all these great kids.
Information provided by advertiser