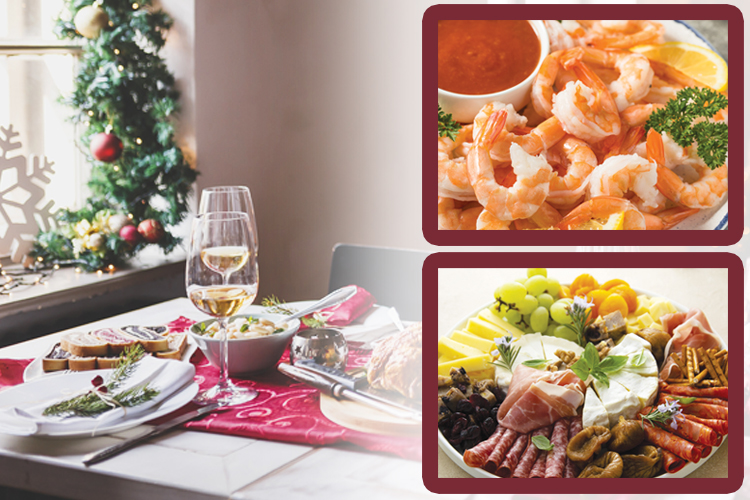 There is nothing I enjoy more than hosting a holiday at my house. I love preparing seasonal boards, cooking a handful of main dishes and sides, and decorating the space with cozy touches. One of my favorite holidays to host is Christmas. It's casual, lively, and encourages a table filled with seafood (feast of the seven fishes) and modern, luxurious touches like caviar. Plus, it's the perfect way to kick off the season with family and friends.
During the holidays, I usually prepare a long table (buffet-style) and present an assortment of starters: a solid caprese salad, shrimp cocktail, roasted nuts, arugula and fig salad, warm brie dip – the list goes on. As a rule of thumb, I'll have some gluten-free, dairy-free, and keto options for those leaning into their new year resolutions a bit early. Look at your guest list, ask for allergies & preferences, and go from there.
Let's be real, no party would be complete without a charcuterie board, and a cheese & fruit board. I have invested in an assortment of beautiful olive wood boards, some engraved, all perfect for hosting at the house. Generally, I'll look to experienced food stylists and Pinterest boards for inspiration. Get creative! I usually add dried fruits, fresh fruits, olives, sweet and spicy peppers, fresh honeycomb – the list goes on and on. Also, incorporate your holiday into the board. Lastly, I'll always include caviar on one (or all) of the boards – it screams holiday season.
Main dishes can be easy if you opt to use your favorite cooking vessels such as the crockpot, Instant Pot, and/or broiler. For me personally, I use 2-3 crockpots and prepare a roast chicken, or a less traditional meat sauce. Easy cleanup, fun delivery, and buffet style. Once again, get creative – and work with your guests' preferences.
This is the perfect time of year to gather with family and friends and spend time together. Get creative with the menu, décor, and presentation. Remember to ask your guests if they have any allergies or preferences in advance and look to experienced food stylists and bloggers for inspiration. Most important – have fun!
---
---