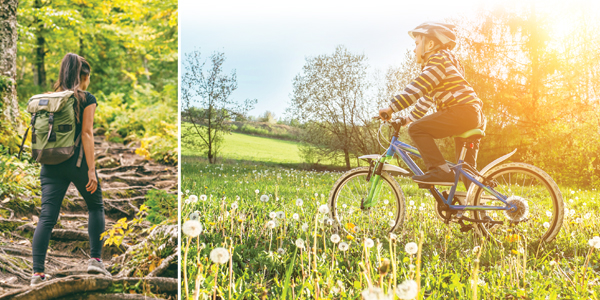 Kathy Horowitz co-facilitates a monthly women's writer's group at the Life Center in Huntington.
Her work has appeared in The Long Islander,
Long Island Woman, Calyx, Blue Unicorn, and
Seventh Quarry. Kathy offers freelance writing,
editing, and proofreading services.
(kahorowitz@gmail.com)
www.kathyhorowitz.com.

Though we've had to make significant adjustments to our daily routine, we must also appreciate the deeper sense of connectedness we've experienced with friends and family. We all have good days and bad, but now that summer is here, let's make the best of both. Hiking, biking, and picnicking have always been favorite activities of mine, more so now than ever. So, here are several fun activities that'll keep you safe during these unprecedented times.
Pack your bicycles, a picnic lunch and head out east. Southampton is a great town to bike along, especially on Meadow Road which parallels the ocean with magnificent homes and views. You can picnic on the lawn at Lake Agawam Park; just bring along chairs or a blanket to enjoy the lakeside scene. New Suffolk is another beautiful spot to ride your bikes safely. New Suffolk Avenue, in particular, has breathtaking meadow and bay views. P.S., all farm stands are open, so don't forget to support your local farmers.
Pop-up drive-in movie theaters are now appearing all over Long Island. There is one located in the Northgate Shopping Center of Commack (with food supplied by Mema's Little Italian Kitchen). To look for and reserve tickets, visit www.limovienights.com. Other locations include: the Smith Haven Mall in Lake Grove, the Farmingdale Adventureland and Vespa Italian Chophouse in Northport.
Hike where the trails aren't crowded. I've found that Brookhaven State Park off Exit 68 of the LIE (go north approximately 5 miles) is a great place to take a 3-5 mile loop hike in the Pine Barrens. All you'll need is a packed lunch and chairs for a nice picnic in the park. Another great and open spot is the hiking and bike trails in Kings Park, on the grounds of the old Psychiatric Center. You can walk or bike down to the Nissequogue River State Park or hike the nearby Greenbelt Trail.
Host a BYO happy hour on your deck or in your yard while maintaining proper social distance. Play games like Charades or Pictionary while catching up with friends and neighbors. Now that summer is here, you don't have to wait for the weekend to have fun!
Even though we must wear masks and have hand sanitizer handy wherever we go, there's no better time than summer to enjoy and explore our beautiful and bountiful island. I wish you all a Happy, Healthy, and Safe Summer!