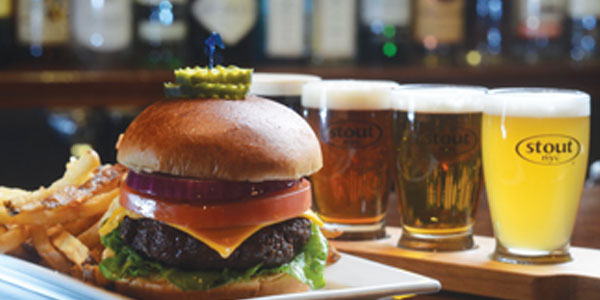 Joe Alicata is a 2009 graduate of Northport High School, he has his B.A. in Public Administration from the University at Albany. Joe works in the insurance industry, is a member of the Advisory Board for the Northport High School Academy of Finance (AOF) program, and is a Director for Northport Student's Mean Business. He can be reached at etrestaurants@gmail.com
As the Super Bowl approaches, millions of Americans will be preparing to enjoy the game either at home or they will look for a spot to head to, with a crowd of likeminded sports fans. Whatever your decision, there are two things to keep in mind: it does not matter who wins as long as its not New England, and you have to check out Stout NYC (133 W. 33rd Street).
My fellow Rangers and Knicks faithful will know Stout well as it is one of the premier spots to hit before attending a game at the Garden, and it also is the perfect place to drown your sorrows or relish a victory after the game. Upon entering, patrons are welcomed into a large, dimly lit yet warm space with modern accents fused with classical Irish pub décor. Stout features a main bar and seating area on the first floor, with two separate bars with seating on the lower level, complete with darts and more TV's for viewing the action.
As much as having a good atmosphere is important for game day, having good food and drink is just as, if not more important. Stout offers a wide selection of beers, ranging from your standard Bud Light to Ithaca Apricot Wheat, Mothers Milk, Stone Smoked Porter and countless others. With a full bar, the mixed drink enthusiast in your group will not feel left out either.
Moving on to the food, the warm spinach, artichoke and cheese dip with toasted pita points is highly recommended. As are the loaded fries with bacon, cheddar cheese, pickled jalapenos, scallions and ranch. Stout also features a raw bar if you are so inclined; with both Fanny Bay British Columbia and Malapeque P.E.I. oysters to choose from. On to dinner, the scallion and black bean turkey burger with charred corn tomato salsa is a delicious and inventive combination, although the corn tomato salsa was a bit underwhelming. Nevertheless, the zesty dipping sauce definitely makes up for it. Other burger features include the Crabmeat and Rock Shrimp burger with panko crust and topped with grain mustard tartar; the Jerk Pork burger with grilled pineapple salsa and the "Angry Burger": dipped in Frank's Red Hot sauce and topped with Maytag bleu cheese and crispy onions.
For those of you who are not so inclined to the burger side of life, Stout features Wisconsin style thin crust pizza, including an interesting creation: the Reuben pizza which features all the contents of a Reuben, just arranged in pizza fashion.
If you are in the mood for a jaunt to the city for the Super Bowl, happen to be trudging your way to Penn Station and cannot bring yourself to bear the pain of the LIRR just yet, or are looking for some solid pub grub, Stout NYC is a place worth looking into. (Stout also has locations on 60 E. 41st Street and 90 John Street).