Do you love to travel and sample cuisines from a variety of different cultures? Well, there is no need to pack your bags! You can be transported to a different continent after just a short car ride from your home. There are so many authentic, culturally-inspired restaurants right here on Long Island. It's been my pleasure recently to delight in quite a few. 
After reading about a dynamic duo of two friends gathering like-minded epicurious foodies in a Newsday feature earlier this year, I was all in! I immediately joined The Dead Chef's Society: "a members-only group of gormands, epicureans and travelers, who believe the best way to learn about a culture is through its' dining and drinking customs." By way of Long Island's ethnic cuisines, DCS founders, Adam Gotterer and Josh Jaycoff coordinate monthly gatherings at a variety of Long Island's most worthwhile restaurants which represent the world's tastes and ingredients in their own cultural atmosphere along with their unique wining and dining traditions. You too can become a member at deadchefssociety.net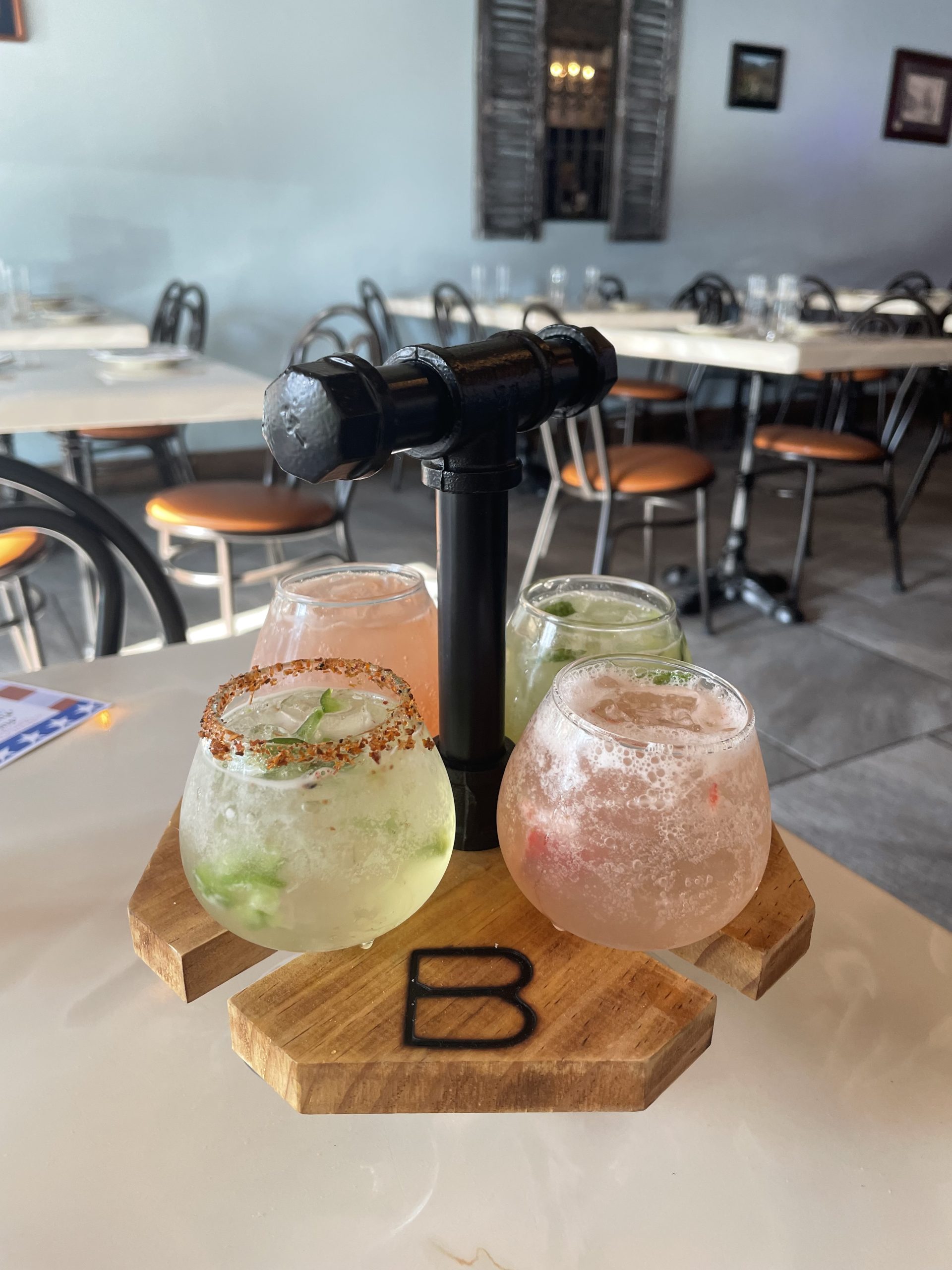 One of my favorite restaurant experiences thus far has been at BabaluNY at 256 New York Avenue, Huntington, (631)683-4666, babaluny.com. Having first been introduced to the "talented beyond his years," Chef Alan Gotay at a debut "Stages" DCS dinner event in a private kitchen, in which he alone, was the sole chef extraordinaire of nine courses, I couldn't wait to experience his fare at his own establishment. Upon entering BabaluNY, you are immediately transported to downtown Havana, Cuba by the artwork, the music, the friendly bar vibe and family photos as you venture past the open kitchen on your way to the back patio. That evening featured a live steel drum mother/son duo and Kava Tea drinks by Kavagirl of Huntington at the outdoor tiki bar on the back patio. Owner and Chef Gotay's menu is a brilliant influence of his roots; Puerto Rican (dad) and Cuban (mom – Letty, who I met). His former time as a boxer has served him well, as he has been ducking and weaving since 2017 from a small storefront, through a pandemic, a food truck, and a restaurant expansion. His humble Chef picks/most popular items are his Empanadas and Mofonguitos. Check out the fresh products for sale as well. The menu prices range from $12-$65 for the Paella for two.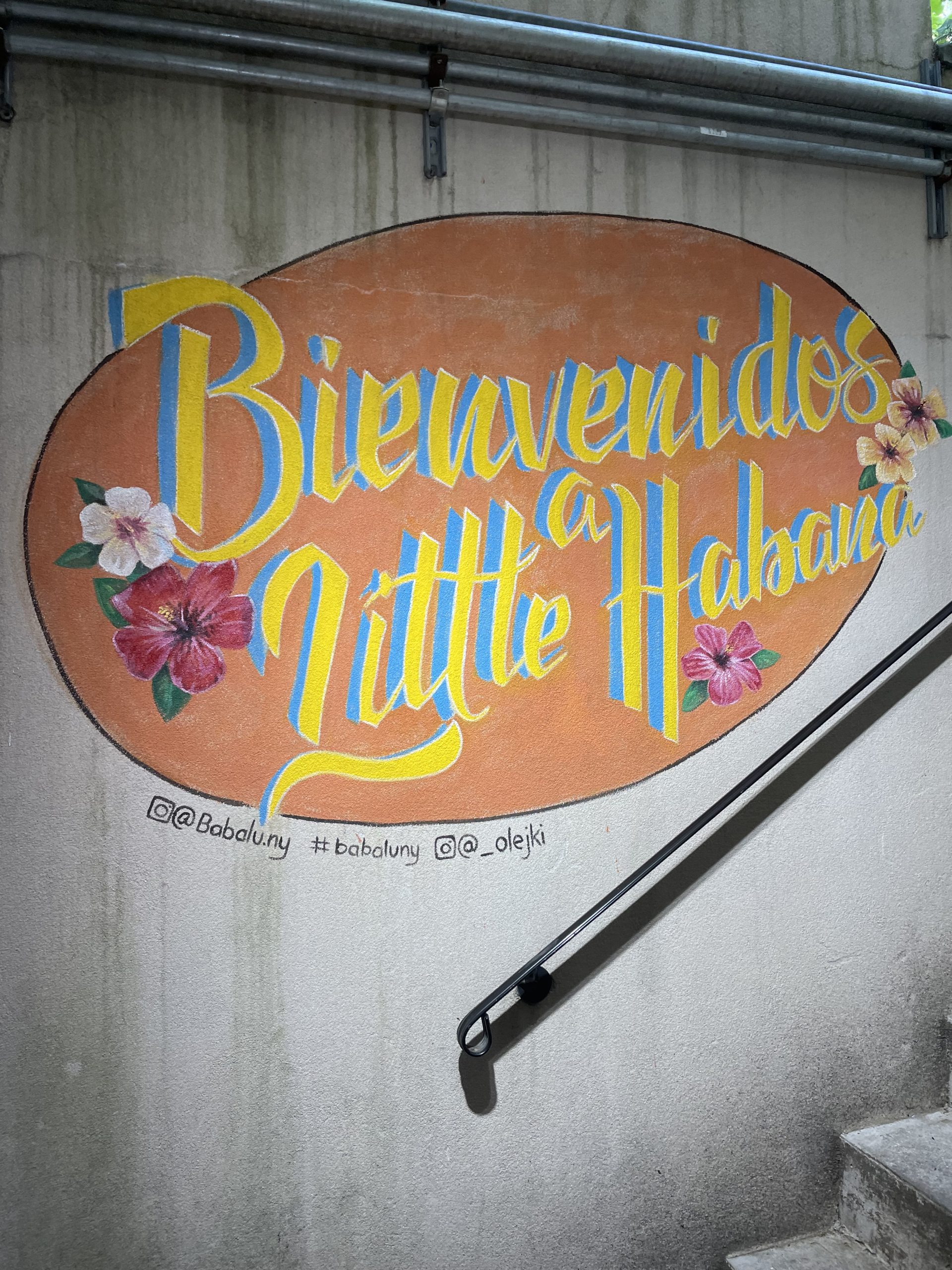 Diane's Delights: Start with the Tequila Flight (four of his inspired craft cocktails of your choosing) – amazing presentation and so delicious!. The Shrimp Mofonguitos served in Chef's secret sauce to pour into mini plantain cups, the Chicken and Mozzarella Empanada, the fall off of the bone ribs, lightly sauced and seasoned to perfection and don't miss the Seafood and Chorizo Paella – one of the most flavorful and abundant that I've tasted.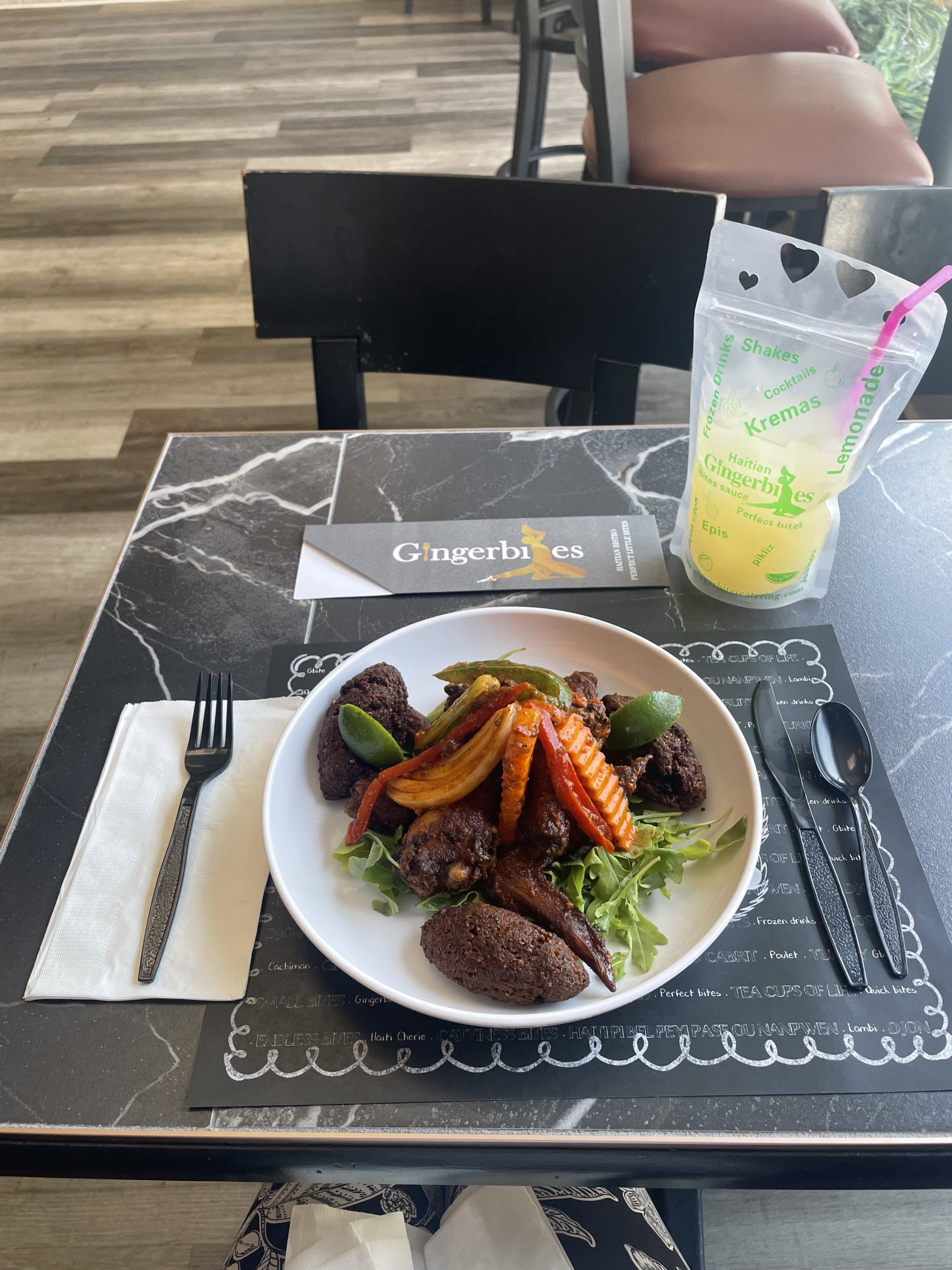 Next stop, Gingerbites: A Haitian Bistro with a Caribbean Flare, located at 730 East Jericho Turnpike, Huntington Station, (631) 427-2483, gingerbitesbistro.com. Here you will be greeted by the effervescent Owner and Chef Marie Michele Destil. She has been in business since 2015, receiving many top ten awards on Long Island for her authentic traditional Haitian cuisine as well as her craft bottled and bagged Haitian cocktails to go. There is an outdoor expanded pandemic parking lot patio as well as a lively party vibe indoors, especially when she transforms the space for "made to order" parties… "your party…your made to order menu." Her Griot (citrus marinated pork with creole spices) and Tasso Cabrit (goat with creole spices) are her most popular/Chef's picks both served Riz Colle' (rice and beans). Menu prices are from $7 – $36. 
Diane's Delights: Start with an imported Haitian Prestige Beer, it is light and refreshing followed by the homemade GingerCitronade pouch with added tequila to get you in the mood. The Joumou is a rich pumpkin base soup with beef, vegetable, chock full of pasta and potato, the jerk chicken wings with Gbites special sauce are meaty, flavorful and perfectly spiced, the Riz Djon Djon, rice with mushrooms (grown only in Haiti) and the Lambi Non Sos, stewed conch with tomato sauce and creole species were among my favorites. Top off your dinner with a Krema, – think coquito only a better Gingerbites version. If you are having a specialty brunch, be sure to ask for Mais Ak Herring, made with herring, cornmeal mush, onions, garlic and peppers served in a bite size portion topped with guacamole and tomato tapenade – so uniquely tasty!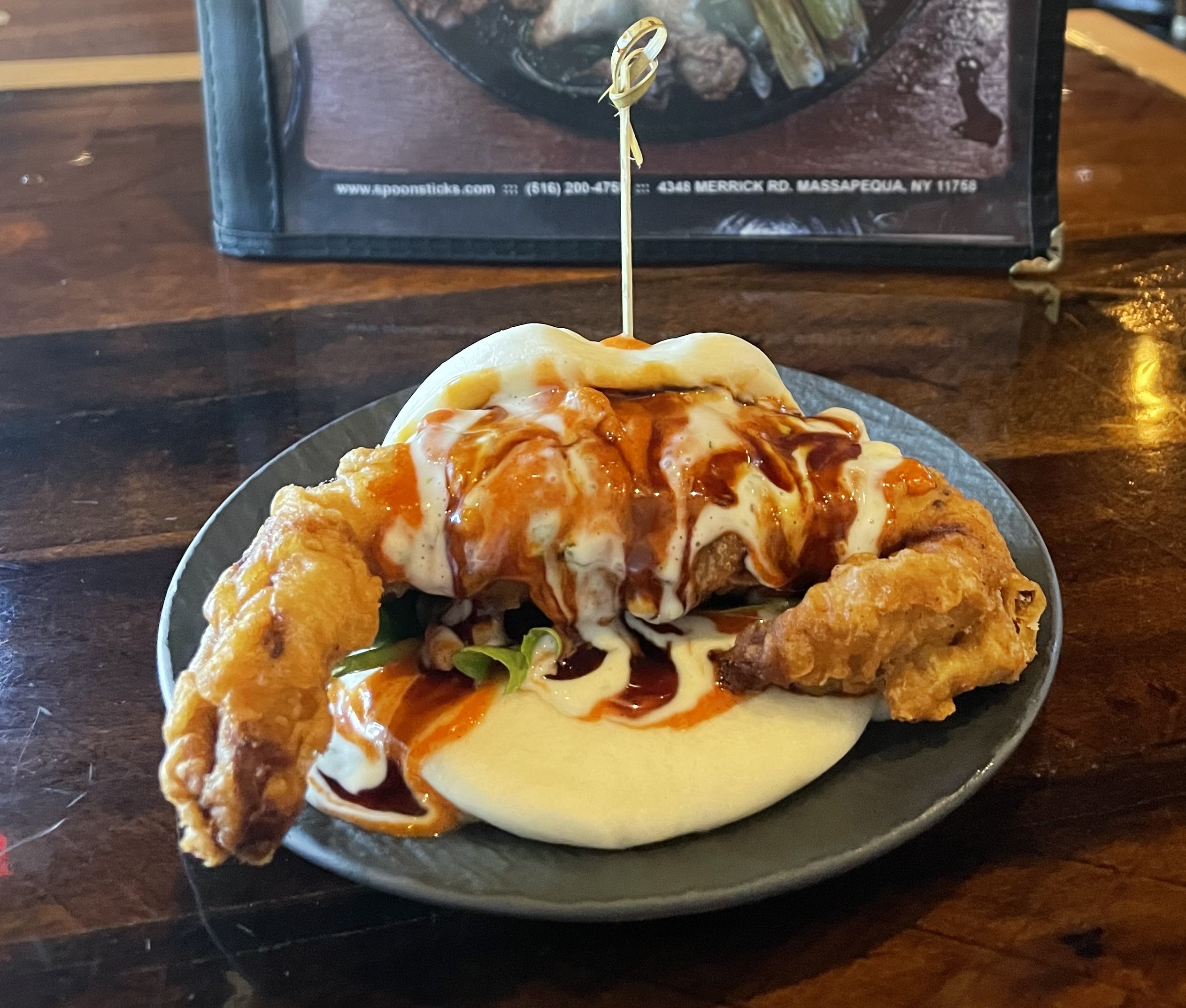 Last, but certainly not least, venture to Spoonsticks: Korean Cuisine and Japanese Ramen at 4348 Merrick Road, Massapequa, NY 11758, (516) 200-4755, spoonsticks.com. Opening just prior to the pandemic, Owners and Chefs Andy Sin and Mark Oh have created a thriving Korean hoesik "happy hour" vibe with their full bar, large screen tv featuring Korean and American stations, and entire wall depicting images of Korea, while featuring delicious and authentic cuisine with menu prices ranging from $3 – $32. The Chef's picks are the Spicy Pork BimBimBop and the Bee Hive Pork Belly and the most popular dishes ordered this year are the Pork Bun and the Tonkotsu Ramen. 
Diane's Delights: Start with a refreshing Soju cocktail from the bar accompanied by the Yangnyeom – fried chicken wings with original sweet and sour sauce, gochujang; try the soft shell crab served on a steamed bun topped with trio of delectable sauces; the Beef Bulgogi, marinated sliced rib eye, asparagus, oyster mushroom, bulgogi sauce: the Spicy Pork BimBimBop. In the mood for a sweet ending, try the Ho Tteok (Korean sweet pancake with nuts) 
…And remember, you won't need any carry-on luggage, perhaps just a carry out bag for leftovers!